DAYTON, Ohio — The University of North Florida is within reach of a 16 seed for the South region in the NCAA Tournament with a first round play-in game against Robert Morris University (RMU) on Wednesday, March 18. The game will be on TRUTV at 6:40 p.m. according to ESPN and broadcasted on the radio on 1010XL AM.
On their way to the next round are the RMU Colonials out of Moon Township, Penn. The Colonials are 19-14 overall and 13-6 in the Northeast Conference. The Colonials finished second in their conference with this being their first trip to the Big Dance since 2010 but their eighth overall.
In terms of conference size and overall playing style, UNF's Head Coach Matthew Driscoll sees some definite similarities and a few differences.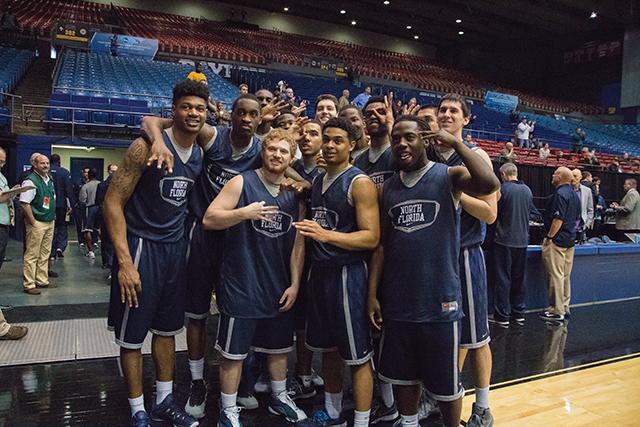 "They [RMU] have always been really good basketball," Driscoll said on the eve of the Ospreys' NCAA Tournament debut. "They have been very consistent the last ten years or so. It is definitely a school that has been around the pipe, so to speak, and has played in the NCAA tournament before."
According to ESPN.com, the Colonials are ranked 174 with an RPI of .4990. RMU is entering the NCAA tournament riding a season high, six-game winning streak. The Colonials are 1-0 when playing in a neutral site against an opponent this season.
"The one thing about them, they have guards that can score at three levels meaning they can make threes, they can put it on the floor, and then they play at the rim." Driscoll said. "When you have three guys like that especially in the NCAA tournament, guards are so critical to playing into a chance. So, we have obviously been alert to that."
One player UNF will have to look out for on RMU is its leading scorer, 6-foot-5 junior guard Rodney Pryor, who averaged 15.2 points per game this season. The Colonials also have two other players who average double figures. Marcquise Reed and Lucky Jones averaged 14.8 and 14.3 points per game respectively.
Dallas Moore, UNF's starting sophomore guard, has been paying attention to the requirements in terms of preparation when going up against multi-level guards.
"We watched a little film this morning," he said. "We're just preparing like we always do, the same way we do for every team, and I think we'll be fine."
Driscoll, in light of the heavy compliments he has adorned for the Colonials, resonates Moore's feelings about going up against the Northeast Conference Tournament champions.
"They [RMU] have a young man about 6'8 that can stretch you and make thress, sort of like BaeBae [Demarcus Daniels] and Chris [Davenport]," Driscoll said. "So, obviously we have to be alert to that, and they play a lot of zone, which is something we've seen more this year than ever before. So, I feel good about that as far as the guys you know being able to play against the zone."
According to ESPN.com, the Ospreys are ranked 165 with an RPI of .5036. Similar to the Colonials, the Ospreys are riding a winning streak into the NCAA Tournament with a program record of eight wins.
"Just being 1-0 every night," Driscoll said,  referring to the sole message he has had for his squad this entire season. "These guys, they are not afraid of the moment. We just had five games in a row that were the biggest games for the school and they came through."
In the last five games, UNF has beaten Florida Gulf Coast on the road, Stetson twice, Lipscomb in the A-Sun tournament semi-final and of course USC Upstate in the A-Sun championship game.
Robert Morris' Rodney Pryor, junior guard, looks at playing against the Ospreys in the first round tomorrow with confidence.
"I believe we're going to be well prepared for the game," Pryor said. "As players, this is our first time. But like he [Marcquise Reed] said, with our coach being here multiple times, he's going to prepare us to go out on the floor and get a win."
Lucky Jones, Robert Morris' senior forward, describes RMU's style of play as one that is very similar to North Florida's.
"I know that we are a great offensive team, that we've got a lot of scorers and a lot of people that finish, but one thing that got us here this far is our defense," Jones said. "And the last six games, we've been playing great defense, very active, very energetic. So, we've just got to make sure we keep that up, make sure we're not extending and just force them to hit tough shots and if they can do that, then we're going to have a ballgame."
In the Colonials' last six games, they beat Bryant twice, Wagner twice, St. Francis (PA) in overtime and St. Francis (NY) in the Northeast Conference tournament final.
UNF and RMU will be tipping off tomorrow at 6:40 p.m. in the University of Dayton Arena. The winner will play No. 1 seed Duke in the second round.
*3/17/15 at 7:46 p.m. – Updated with video.
—
For more information or news tips, contact [email protected] ; if you see an error in this story, contact [email protected].