UNF Women's Tennis shuts out Kennesaw State University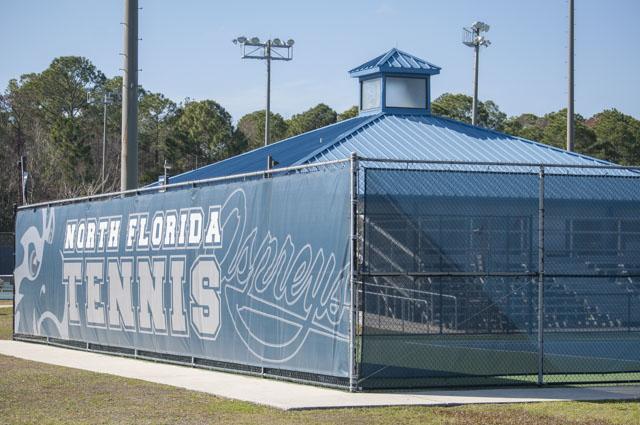 The women's tennis team took on the Kennesaw State University (KSU) Owls in a rainy match March 26 at the UNF Tennis Complex. The game was a shut out with a 4-0 win.
The teams planned to play six singles matches and three doubles matches, but only finished three singles and two doubles due to rain.
"I wish we could have finished the last three matches because it was a great opportunity for our seniors to build some confidence. However, I'm very happy we were able to get an overall result before the rain started," Head Coach Audra Cohen said.
In the singles matches, Luise Intert (UNF) defeated Abbie Grant (KSU) with a 6-0, 6-0 shutout. Michelle Valdez (UNF) defeated Jana Hueckinghaus (KSU) 6-0, 6-1. Quetzali Vazquez (UNF) defeated Isabela Castro (KSU) 6-2, 6-0.
The two-set victories gave them three points.
The teams battled it out for the last point in two doubles matches. Luise Intert and Rebeca Pereira (UNF) defeated Abbie Grant and Ashleigh De Wet (KSU) 8-2. Quetzali Vazquez and Marina Cunningham (UNF) clinched the winning point with a 8-0 shutout against Alexandra Mercado and Cristina Martin (KSU).
On March 28, the team will go up against the University of South Carolina Upstate at 10 a.m. in the UNF Tennis Complex. At the match, UNF Tennis seniors Marina Cunningham, Taylor Hollander, Rebeca Pereira and Esther Zuniga will be recognized for Senior Day.
—
For more information or news tips, contact [email protected]; if you see an error in this story or have any compliments or concerns, contact sports@unfspinnaker.com.