Student Government Senate seats are split Red and United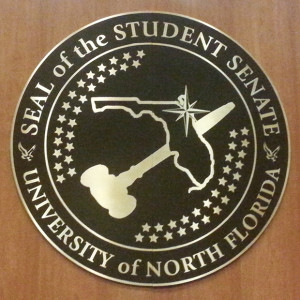 Student Government's (SG) Senate will be composed  of 17 Red Party members, 17 United Party members and three Independent senators for the upcoming Spring term, according to Senate President Chase Baker.
SG Elections Commissioner Brad Johnson announced the unofficial election results on March 13 revealing the United Party as the election's dominate vote winners. In addition to all 17 of the United Party's senatorial candidates being elected, the election of the United Party's presidential ticket represents the first time since 2010 that SG's Executive Cabinet will be held by a party other than the Red Party.
However, President-elect Shomari Gloster will lead without a senatorial majority. A 50-50 split in party majority with 17 Red Party senators and 17 United Party senators could represent a gridlock in the Senate.
According to SG's Constitution and Statutes, the ability for the Senate to function essentially rests on a two-thirds vote. In order for a senate meeting to take place, two-thirds of the Senate must be present.
Significantly, the Senate has the power to override a veto from Gloster with a two-thirds vote.
Therefore, the Senate's Independent candidates represent a break from a potential party gridlock.  If United Party senators and Red Party senators were to vote exclusively against each other, the Independent senators' votes could potentially be the deciding factor.
The election results were validated at the March 30 senate meeting and additional SG position nominations were also announced.
—
For more information or news tips, or if you see an error in this story, contact [email protected].