Osprey men's basketball steamrolls Edward Waters Tigers 98-69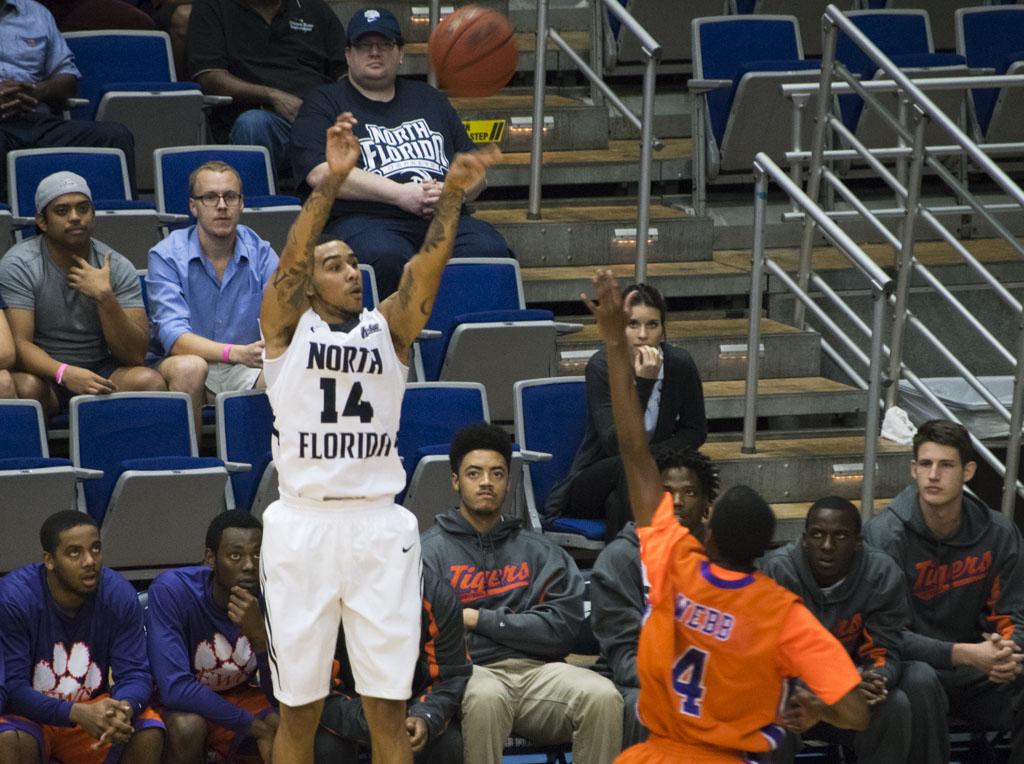 UNF men's basketball (3-0) defeated NAIA opponent Edward Waters College (3-4) 98-69 in the UNF arena on Nov. 18.
The Tigers scored first to open the game after three missed shots between both teams. UNF forward Chris Davenport answered with a shot from downtown putting the Ospreys on top. He finished with a double-double, 12 points and 13 rebounds, for the night.
The Ospreys began to roll behind solid three-point shooting to extend their lead to 22-12. Davenport made two monstrous dunks before the end of the half, and UNF went into the locker room with 57-41 lead.
In the second half, several UNF turnovers led to missed opportunities early. Edward Waters took the chance to string together several runs, cutting the Osprey lead to 83-61 with 8:26 left in the game. But UNF continued to capitalize on possessions for the rest of the half.
The Ospreys had four players score in double digits to close out the game 98-69. UNF's outside-in approach led to five Osprey dunks, including a one-handed jam from guard Dallas Moore.
Moore had a game-high 24 points while redshirt senior Trent Mackey added 22 points and Demarcus Daniels added 18 points off the bench.
"Like coach said, we played much better defensively the second half, which was a point we emphasized in the locker room before we came back out," Daniels said.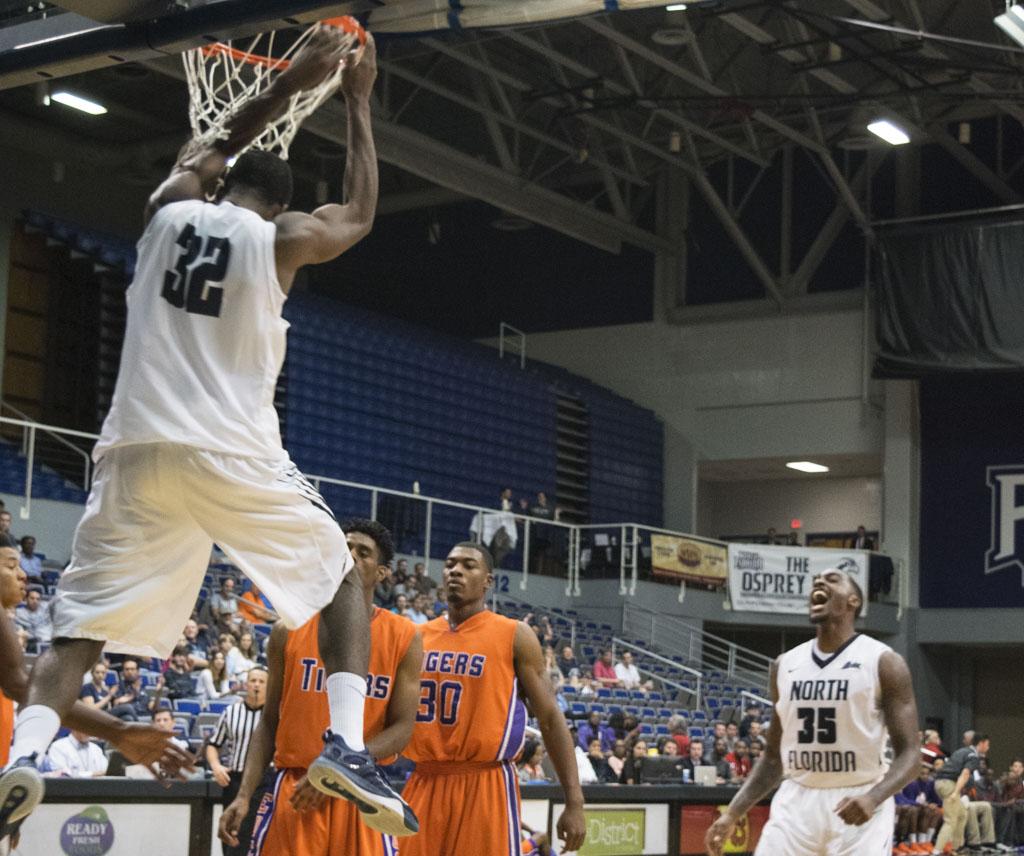 UNF Basketball Head Coach Matthew Driscoll said having a deep bench helps the Ospreys down the stretch.
"Offensively, I thought we flowed real well," Driscoll said. "We were consistent in how we've been throughout, and then obviously another fifty point half which we are very capable of doing. It's just because of the number of talented players we have that are unselfish and they can shoot the ball from deep."
Tiger guards Oceaan Maddox and Keith Williams led the way for the Tigers to soften the Osprey blowout. Maddox led the Tigers with a team-high 24 points and 7 rebounds. Williams finished with 10 points.
The Ospreys will be on the road to face the Louisville Cardinals on Nov. 21 in Louisville, Kentucky. The game is part of the Brooklyn Hoops Holiday Invitational, and can be viewed on ESPN3.
Correction: An earlier version of this story misattributed the opponent school in the headline. The school is Edward Waters College, not Edwin Waters College. We regret the error. 
—
For more information or news tips, or if you see an error in this story or have any compliments or concerns, contact [email protected].