Video by Michael Herrera
UNF women's basketball (3-6) came home to a huge win over the Trinity Baptist Eagles (2-11) 97-30 at the UNF Arena on Dec. 12. This was the first meeting between the two programs.
The first points of the game came from behind the free throw line early in the first half from UNF guard Sierra Shepherd. The Ospreys continued to add points to the scoreboard behind their double threat of three-pointers and inside the paint attack.
At the half, UNF had a 32-point margin over the Eagles for a 49-17 lead going into the locker room.
Shepherd said the team played well as a unit during the game.
"I feel like we shared the ball very well today. We focused a lot of defense this whole week and I think we responded well," Shepherd said. "I just think we had a lot of energy and a lot of confidence in it."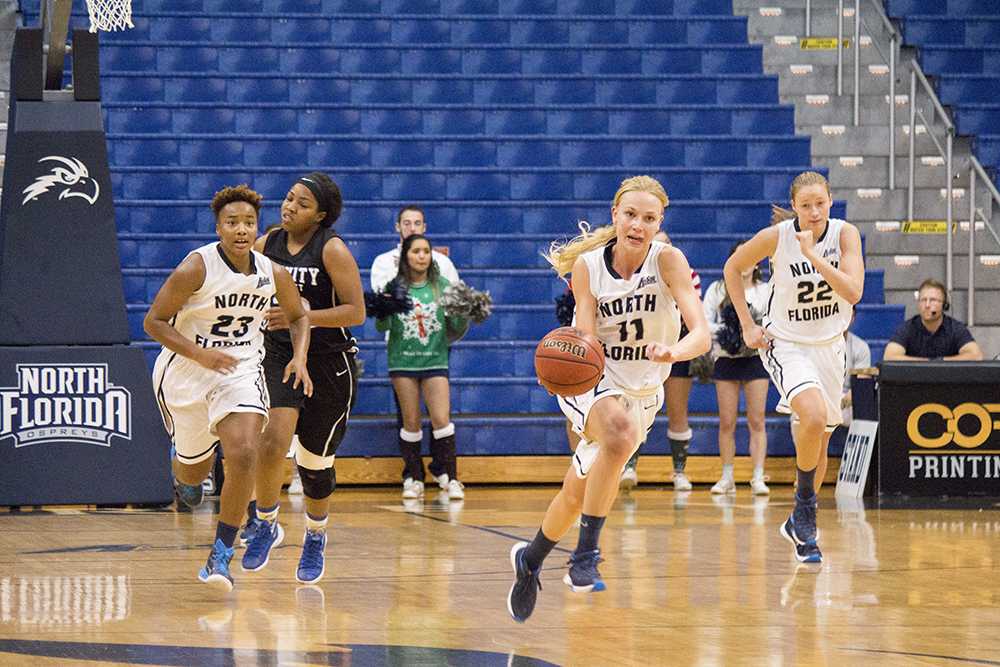 UNF picked up where they left off in the second half with a quick score by guard/forward Maiya Rumph.
Guard Kadesia Johnson and forward Karrah Johnson maintained a strong defensive presence and reeled in 14 and 13 rebounds respectively.
Five Ospreys recorded double digits in scoring on the books. Shepard led all scorers with 20 points, seven assists and three steals.
UNF connected from behind the arc 12 times and had 48 points in the paint to the Eagles' seven three-pointers and six points in paint.
Trinity Baptist main offense came through guard Tatiyana Thomas with 15 points.
UNF women's basketball head coach Darrick Gibbs said the Ospreys have been improving each game.
"Well, you know we're really excited about how we played," Gibbs said. "You know we really focused this week, after the Georgia State game, on our defense and rebounding. And holding any team to 30 points and getting 61 rebounds, I am excited about how they carried over. And we shot the ball exceptionally well, had a bunch of career highs and all that good stuff."
Next, the Ospreys will face the Alabama Crimson Tide on Dec. 14 at the Coleman Coliseum in Tuscaloosa, Alabama.
—
For more information or news tips, or if you see an error in this story or have any compliments or concerns, contact [email protected].