Video by Michael Herrera
The UNF women's basketball team lost to the Campbell University Camels 66-55 on Dec. 20. The team had hoped to go into the holiday break on a high note in their final game of the Hampton Inn Oceanfront Holiday Classic.
This time around the Ospreys didn't have the luxury of a hot start. Several key defensive errors allowed Campbell to outscore the Ospreys 23-16 in the first quarter.
Junior guard Claire Ioannidis seemed to be the only UNF player who wasn't struggling to score points. Her 11 points in the first half was one point short of matching the rest of the Ospreys' combined points.
A relatively quiet second quarter resulted in Campbell going into halftime with a 34-23 cushion over the Ospreys. UNF women's head coach Darrick Gibbs explained the team's struggle.
"It was a combination of a lot of different things," Gibbs said. "We were already down numbers, were down another rotation player, having to fight through that a little bit and having to change our rotation a little bit with not a lot of prep, so that definitely had an effect on things."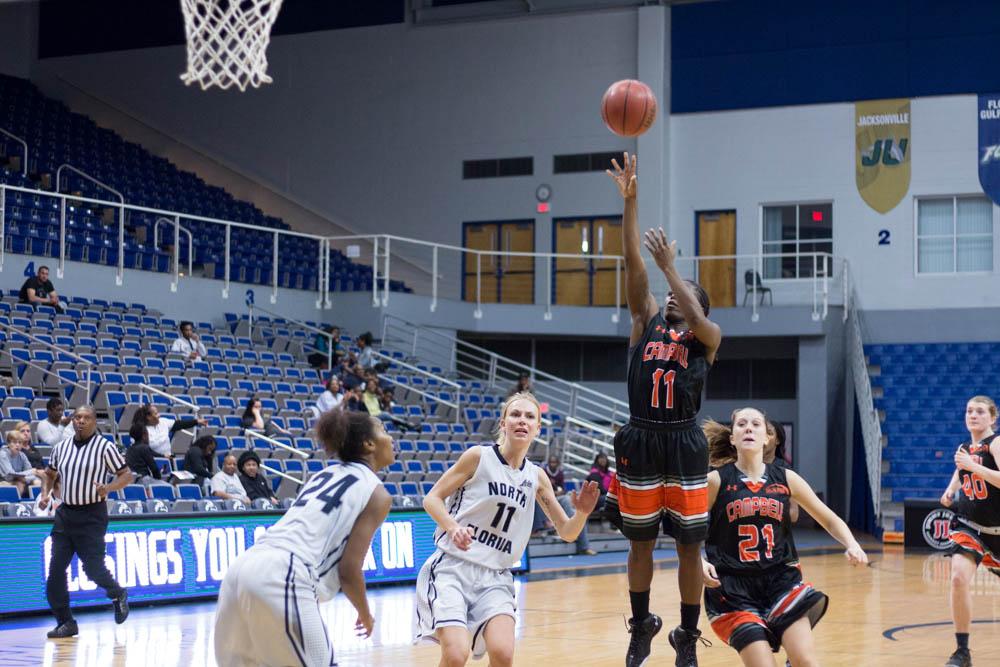 The game turned into a two on two showdown with Ioannidis, 24 points, and sophomore Sierra Shepherd, 17 points, against Campbell's junior forward Amanda Coffer, 16 points, and sophomore guard Summer Price, 22 points. The four players scored 79 out of 121 of the game's total points.
Unfortunately for the Ospreys, Campbell's offense proved to be too hot to handle. The Camels managed to go up by 20 points with 6:18 to go in the game.
Despite a late push by Ioannidis, the Ospreys landed flat and lost 66-55.
"I don't think me scoring that many points matters when we lose," Ioannidis said. "[It was] not enough obviously for us to win, so it really means nothing to me."
The Ospreys will head back to UNF Arena after the holiday break to play UNC Wilmington on Dec. 29.
—
For more information or news tips, or if you see an error in this story or have any compliments or concerns, contact [email protected].