North Florida men's team victorious over Jacksonville in River City Rumble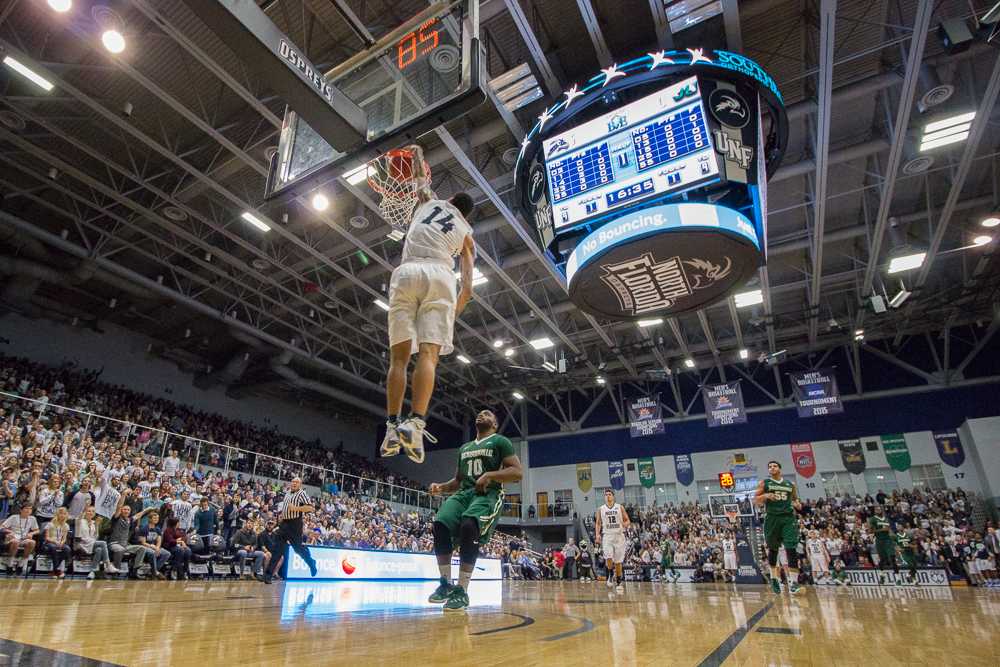 UNF men's basketball (13-6 overall, 2-0 A-Sun) defeated crosstown rival Jacksonville (8-10 overall, 0-1 A-Sun) 83-68 in an energized UNF Arena on Jan. 9. Forward Demarcus Daniels lifted the Ospreys to victory with a stellar double-double performance off the bench.
UNF opened the first half with a three-pointer from the hands of guard Nick Malonga. UNF played tight defense early over the Dolphins, holding them scoreless until a made basket and free throw from JU forward Marcel White.
Both teams exchanged baskets behind three-point shooting from the Ospreys and inside scoring by the Dolphins. A putback from forward Chris Davenport sent the Ospreys into the break with a 33-22 lead.
In the second half, the Dolphins closed the deficit to 1 point until the Ospreys extended their lead behind three-point play and points in the paint. Daniels made his presence known down low, finishing with 22 points, 10 rebounds and 3 blocks coming off the bench.
UNF men's basketball head coach Matthew Driscoll said different schemes led to the Osprey lead.
"BaeBae [Daniels] did a great job of leading the guys out there and we switched to zone and I think they cut it to one," Driscoll said. "Dallas [Moore] made a couple of free throws and we got like four or five stops in a row."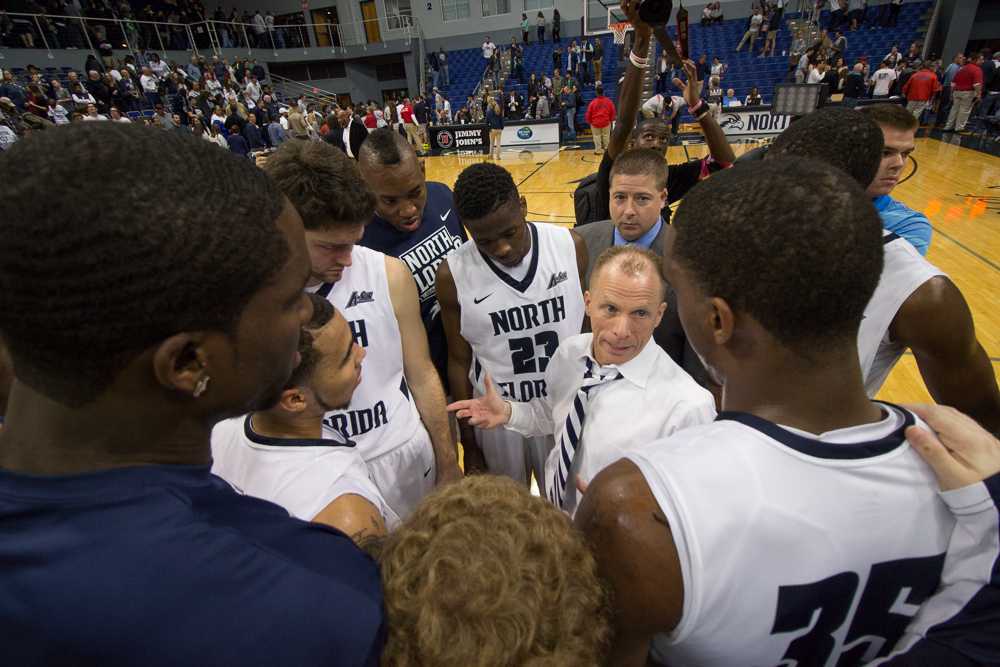 With 12:30 left to play in the game, UNF guard Beau Beech fouled out, finishing with 9 points, 4 rebounds and 2 blocks.
Davenport capped off the game in the closing seconds hitting a three-pointer to seal the 83-68 victory.
Dolphin guard Kori Babineaux contributed a game-high 30 points and 7 rebounds in the effort to close the gap between the two teams.
Jacksonville men's basketball head coach Tony Jasick said Babineaux is a key part of the Dolphins' offense.
"The one thing in games like this where we need him to continue to be aggressive, looking for his shot when he draws three," Jasick said. "We got some guys out on the perimeter that can make some shots. And he has been. Tonight was a tough night obviously for us offensively."
Next UNF will face the Lipscomb Bisons (4-14 overall, 0-1 A-sun) on Jan. 14 at the UNF Arena. This marks the second game in a three-game home stand.
—
For more information or news tips, or if you see an error in this story or have any compliments or concerns, contact [email protected].