Video by Brittany Moore
North Florida men's basketball (15-6 overall, 4-0 A-Sun) sealed a 93-78 comeback victory over the Kennesaw State Owls (5-14 overall, 1-2 A-Sun) in the UNF Arena on Jan. 16. Four Ospreys finished scoring in double digits.
The Owls controlled the majority of the first half behind three-point shooting from guard Yonel Brown who connected four times from downtown in the half. Brown finished the night with 17 points. The Ospreys trailed for the entire first half before making a last run in the first half behind Dallas Moore to trim the lead to five.
The Ospreys went into the locker room with a 47-42 deficit looming during halftime. UNF head coach Matthew Driscoll said that forward Demarcus Daniels provided a strategic boost to the Ospreys.
"Demarcus Daniels coached the entire time out at the under four minutes meeting," Driscoll said. "And he told the guys it's a twelve point game and not only are we good enough but all we got to do is [take] this into another level and we will separate ourselves."
After the break, UNF took a 52-51 lead early after a made basket from guard Beau Beech. The basket gave the Ospreys their first lead of the game. The Ospreys hit 10 treys in the half to extend their lead over the Owls. Both teams exchanged baskets and defensive stops down the stretch before the Ospreys began to pull away.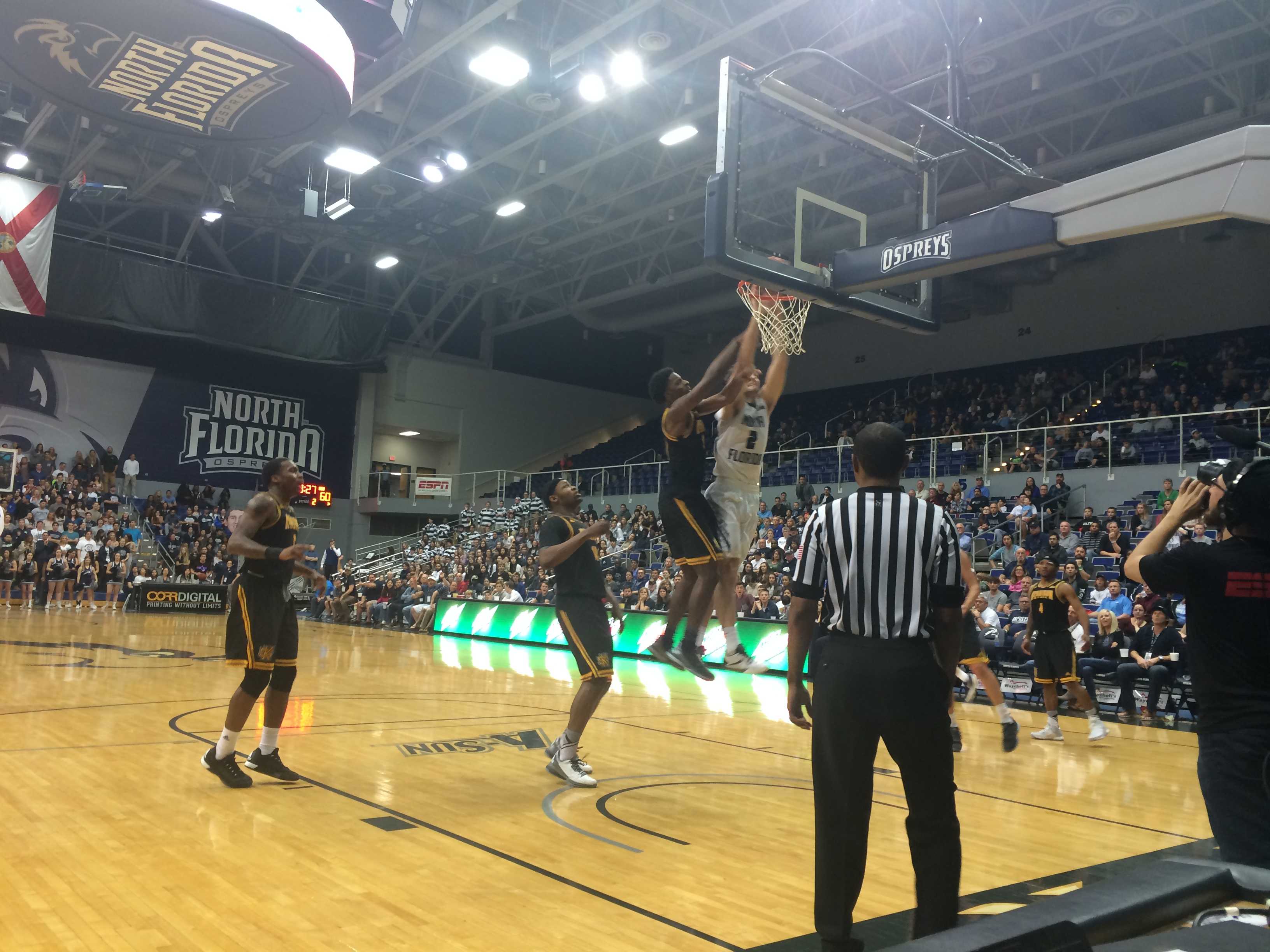 At the end of the game, Beech knocked down a three-pointer to seal an assertive Osprey victory. Beech had a game-high 33 points and 8 rebounds while Moore added 24 points and 6 assists.
The Owls had foul trouble throughout, with four of their players racking up 4 fouls each. KSU guard Kendrick Ray finished with 21 points to lead the Owls and grabbed 6 rebounds as well.
Next the Ospreys will face the USC Upstate Spartans (7-12 overall, 1-1 A-Sun) in Spartanburg, South Carolina on Jan. 21.
—
For more information or news tips, or if you see an error in this story or have any compliments or concerns, contact [email protected].