North Florida victorious over USC Upstate, remain undefeated in Atlantic Sun
UNF men's basketball (16-6 overall, 5-0 A-Sun) continues to roll after a 78-62 victory over the USC Upstate Spartans (7-14 overall, 1-3 A-Sun) on Jan. 21 in Spartanburg, South Carolina. The Spartans won the previous four regular season meetings between the teams.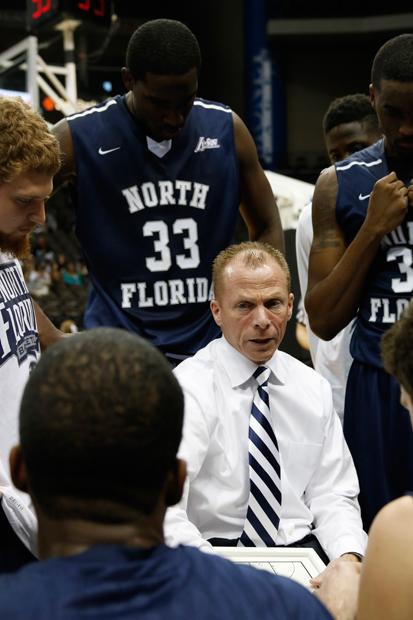 In the first half, the Spartans came out fast for a opening lead over the Ospreys. In response, UNF guard Nick Malonga connected from downtown to get the the first points for the Ospreys.
UNF continued making a run to take an 8-6 lead behind a Trent Mackey trey and a jump shot from guard Dallas Moore. Six Ospreys finished scoring in double digits.
Both conference foes went back and forth throughout the half with strong defense and offensive runs. The Ospreys capitalized on 12 turnovers given up by the Spartans, scoring 19 points off those giveaways. At the half, the Ospreys went into the locker room with a 39-32 lead.
To start the second half, UNF scored the first 5 points to extend their lead over the Spartans. USC Upstate cut the lead down to 2 points behind back-to-back three-pointers from the hands of guard Deion Holmes and forward Malik Moore.
Later in the half, UNF pulled away from the Spartans with a pair of threes from Mackey to seal the victory.
UNF hit 9 three-pointers compared to 3 from the Spartans on the night. The Ospreys earned 8 steals and blocked 8 shots. Forward Chris Davenport earned 6 of those blocks and managed to score 10 points, drop 5 assists and grab 9 rebounds. Moore tallied 16 points, 5 assists and 3 steals while Malonga added 16 points, 6 rebounds, 2 steals.
Off the bench, Demarcus Daniels contributed 12 points and 6 rebounds. While Daniels did not earn a block against the Spartans, Daniels and Davenport are the conference leaders in total blocks on the season with 51 and 46 blocks respectively.
Spartan center Michael Buchanan finished with a game-high 31 points, 7 rebounds and 2 blocks.
Next the Ospreys will face the NJIT Highlanders (11-9 overall, 2-2 A-Sun) on Jan. 23 in Newark, New Jersey.
—
For more information or news tips, or if you see an error in this story or have any compliments or concerns, contact [email protected].