Men's basketball drops third-straight game in conference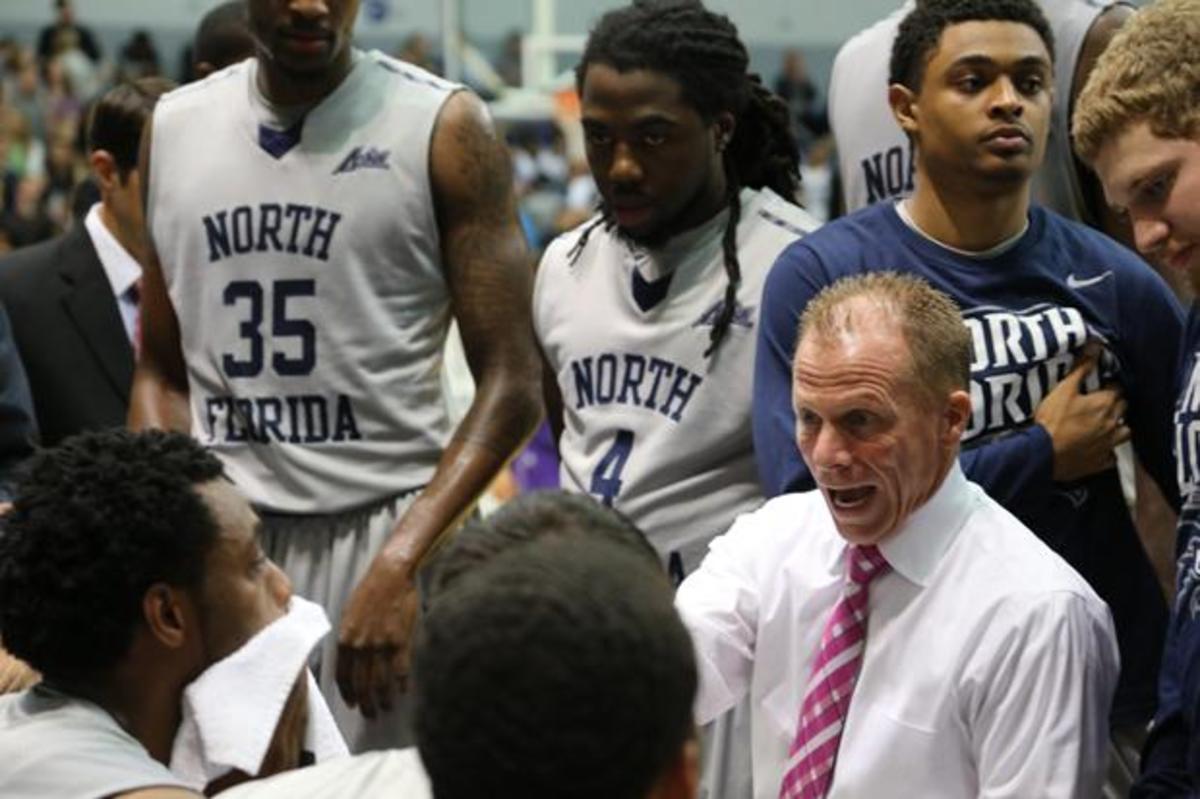 Men's basketball (18-9 overall, 7-3 A-Sun ) suffers their third loss in the Atlantic Sun 101-91 to the Kennesaw State Owls (8-18 overall, 4-6 A-Sun) on Feb. 11 in Kennesaw, Ga. Fouls and turnovers plagued the Ospreys down the stretch.
Despite the loss, the Ospreys remain tied for first place in the Atlantic Sun Conference after hometown-rival Jacksonville University fell to the Lipscomb Bisons 93-92 tonight.
North Florida started hot early with a run that lasted midway through the first half for a 17-4 lead after guard Beau Beech's first dunk of the night. The Owls began a run of their own after UNF became cold from the field to close the gap 29-27 in the Ospreys' favor.
Owls' guard Yonel Brown connected from downtown, to take the lead by one from the Ospreys. UNF guard Dallas Moore sparked a rally behind a lay-up to stay in close reach of Kennesaw State in the final stretch of the half.
After a hard foul on Beech, the Ospreys answered once more with a lay-up and dunk from forward Demarcus Daniels to tie the game 41-41.
Owls' guard Kendrick Ray nailed a three-pointer to extend the lead for a halftime score of 48-43.
When the second half resumes, the teams battled down with back to back buckets. Points from the free throw line and from behind the arc helped keep the Ospreys in the game before the Owls pulled away late to seal the victory.
The Ospreys completed 12 three-pointers compared to 5 from the Owls. UNF had 17 turnovers to Kennesaw State's 8.
Ospreys' guard Aaron Bodager fouled out with three points, one rebound and one assist.
Beech fouled out with 17 points and five rebounds in the final seconds.
Ray had a game-high 25 points, 8 rebounds and five assists before fouling out. His teammate, Brown tallied 22 points, three rebounds and two assists.
Daniels finished the game with 21 points, three rebounds and went 8-8 from the free throw line.
With the Ospreys' loss and Jacksonville's loss to Lipscomb, the Florida Gulf Coast Eagles are only one game behind the two teams in the standings with four games left in the regular season.
Next the Ospreys will play the Lipscomb Bisons (9-18 overall, 5-5 A-Sun) Feb. 13 on the road in Nashville, Tenn.
—
For more information or news tips, or if you see an error in this story or have any compliments or concerns, contact [email protected].