In their second-to-last home game of the season, the North Florida women's basketball team (6-21 overall, 2-10 A-Sun) fell hard against USC Upstate (18-9 overall, 9-3 A-Sun) in a 75-61 loss on Feb. 20.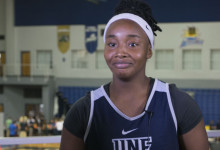 The theme of the game was Senior Day, with all eyes on senior guard Kadesia Johnson. Coming into her second-to-last home game of her career, Johnson said she was "very excited, anxious, a little bit nervous."
The Spartans maintained the lead early in the first quarter before the Ospreys went ahead briefly 14-12, for their only lead of the game. The Spartans took the game into the second quarter up by two.
Upstate came out strong on both ends of the ball in the second quarter, shooting 53 percent from the field and allowing North Florida to shoot only 30 percent. This brought the Ospreys to a double-digit deficit, down by 14 with a score of 37-23 entering halftime.
The Ospreys' Kadesia Johnson had a strong second half, scoring 12 of her 21 overall points in the 4th quarter and leading the team in scoring. She credited her success to "coming out and being more aggressive, taking whatever they tried to give me."
However, her success was not enough.
"I thought we played hard, had some moments where we did some good things, we just didn't do it consistently enough," Coach Darrick Gibbs said.
Gibbs stressed adjustments on the defensive end.
"NJIT will bring a different challenge," Gibbs said. "We'll get back to the drawing board and look at what we need to do defensively to make it tougher for them to get the looks that they want."
Next, the North Florida Ospreys will take on the NJIT Highlanders in the last home game of the season on Monday, Feb. 22.
—
For more information or news tips, or if you see an error in this story or have any compliments or concerns, contact [email protected].