UNF Track and Field dominates indoor conference championships
The men's and women's track and field team traveled to Winston-Salem, North Carolina last weekend to compete in the Atlantic Sun Indoor Track and Field Championships, and left with more than a few nice trophies.
Something to consider while reading these results: indoor times are usually slower than outdoor times. This is because indoor tracks are 200 m long, as opposed to outdoor ones that are 400 m. That matters for one simple equation: shorter track = more turns, which creates slower times because they take more time to run.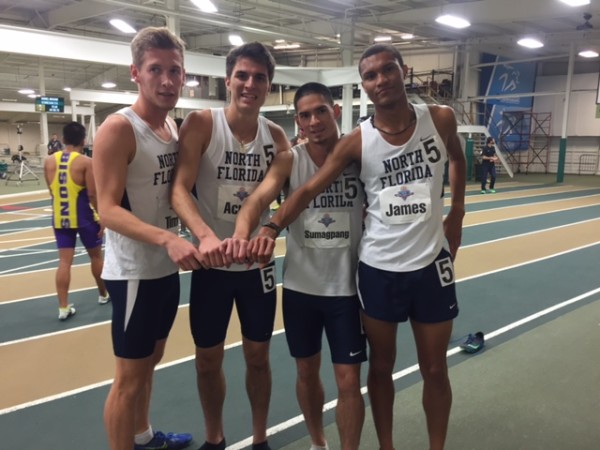 Overall, the men's side placed second in the conference with 119 points, behind rival Kennesaw State (221). There are plenty of reasons this is a total heartbreaker, but the stellar performance by the men's 4 x 400 m team is perhaps the biggest.
During this relay, junior middle distance runner Cristian Acuna took a literal tumble (and roll) on the track while handling the second leg, and still managed to secure the team a spot in first place.
If you've ever watched a 4x400m relay race in person, you know it's the most anticipated race of the day—as well as the last. On top of the expectations and this being the closeout of indoor season, the pressure was really on for Acuna and his squad. But for him, these stressors were nothing compared to his duty to his "brothers."
"There was only one thing I was thinking about when I looked up after being flipped, seeing everyone passing me: I just knew I couldn't let my boys down or my coach," Acuna said. "They're like family to me, and I could not live with myself letting them down, and I think that's what gave me the strength to get up and catch the leaders putting us back in the race."
Other notable performances from the men's side include wins by freshman all-star Logan Poteet, senior Taylor Sumagpang, junior Maurice Sapp (200 m, 22.75), junior Desmond Robb (400 m, 49.59), the men's Distance Medley Relay Team, and high-jumper Bobby Harris (6-10.75).
In a breakout track season followed by a successful cross country season, Poteet managed to keep it up and earned first place in both the one mile run with 4:14.93, and the 3,000 m with 8:30.68.
Senior Taylor Sumagpang took first in the 800 m race with 1:54.90. But, this is one of those wins that makes second place overall bittersweet, considering Sumagpang managed to get this win from the "slow heat" with only three runners in it, and 19 in the 800 m race total. Winning out of this heat is basically unheard of, since there isn't usually much competition from the top runners to push you, but Sumagpang somehow made it work.
The men's Distance Medley Relay also won with a time of 10:16.15 for a total distance of 4000 m.
The women's indoor team also dominated events on both the track and field. Sophomore Hallie Grimes won the 400 m with a time of 56.84, Vanessa Philbert won the 800 m with a time of 2:11.83 and Megan Walker won the pole vault with a height of 12-1.25.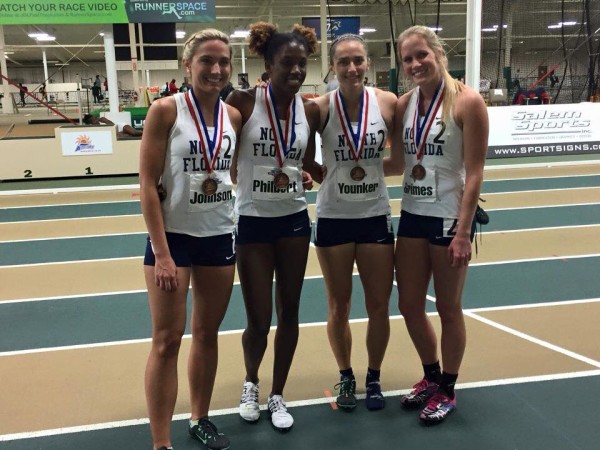 The 4 x 400 m race was another impressive performance, since senior Alyssa Younker ran her leg of the race coming off a case of tendonitis. The team still managed to place third with a 3:53.84.
The girls also scored some points in plenty of other events, including the 3000 m, 4 x 400 m relay, 5000 m, 60 m hurdles, Distance Medley Relay and one mile runs.
For complete results of the Osprey track and field team, go to fl.milesplit.com/…eams/UNF/results/229676.
For complete meet results, go to halfmiletiming.com/….16asunindoor/results.
Outdoor season is now in session, and the first meet is the UNF Spring Break Invitational at Hodges Stadium Friday, Mar. 25.
—
For more information or news tips, or if you see an error in this story or have any compliments or concerns, contact [email protected].