Ospreys take Mayor's Cup for second consecutive year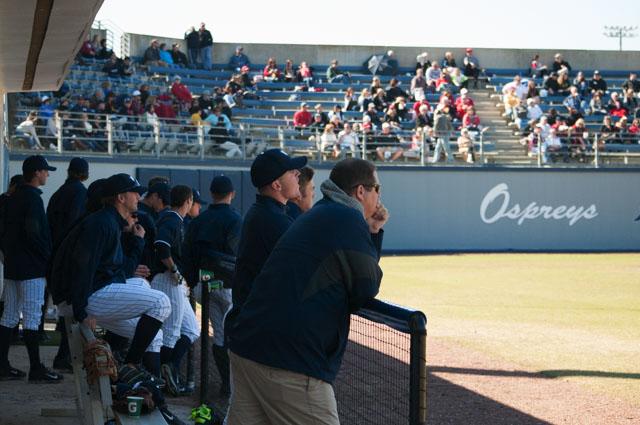 The North Florida Ospreys snapped their four game losing streak with a 10-6 win over cross-town rival Jacksonville University Wednesday, securing the Mayor's Cup for the second straight year.
The Ospreys started painfully. Literally.
Center fielder Chris Thibideau and right fielder Nick Karmeris collided on the first play of the game chasing down a pop-fly from JU's Parker Perez. Both players would leave the game injured, and Perez would end up scoring after a lead-off triple.
Bubba Olivera replaced Nick Karmeris in the outfield and responded in the bottom of the first with an RBI single up the middle. Alex Merritt followed with an RBI on a sacrifice fly to center, giving the Ospreys the 2-1 lead.
Defensive miscues by Ospreys Christian Diaz and Patrick Ervin allowed JU to get two runners on for Austin Hays, who belted a three-run bomb over the left field fence.
Hays leads the A-Sun in RBI's.
Olivera answered again in the bottom of the third, when he hit an RBI single to left.
Olivera went 3-5 and had three RBI's, despite not being in the starting lineup.
"I got in there with bases loaded, and Smoke [Laval] came up to me and said, 'just take a hack, who cares,' and I responded with 'I don't,'" Olivera said. "So I just went up there and took a hack and got a pitch and hit it."
The Dolphin's JJ Gould sent a lead-off triple careening off the right field wall to begin the fourth, and scored on a grounder to second base giving JU a 5-3 lead.
Christian Diaz would atone for his error earlier with a two-run opposite field homer over the right field fence in the bottom of the fourth.
An error by JU third baseman Samuel Armstrong allowed the Ospreys to take the lead, and in the next inning Corbin Olmstead would hit a double up the middle, scoring two runs.
Olmstead and Olivera would tack on two more RBI'S in the eighth to give the Ospreys a 10-6 lead and the win.
Olmstead, who has been struggling lately, bounced back with a two hit, three RBI night.
"All week I've been practicing seeing the ball and getting my best swing off," Olmstead said. "It feels good to come out here and be able to supply for my team like I'm required to do."
The Ospreys finished the game with 13 hits and only one error.
Freshman Austin Drury made his first career start for the Ospreys, going 5 2/3 innings. Drury gave up five hits, five runs and struck out two Dolphins.
Patrick Ervin and Keith Skinner both scored three runs, thanks to clutch hitting from the middle of the Ospreys lineup.
The Ospreys play again Friday, when they will take on Penn at 6 p.m. from Harmon Stadium.
—
For more information or news tips, or if you see an error in this story or have any compliments or concerns, contact [email protected].