Osprey's season ends after opening round defeat
North Florida Out in the First Round of the NIT
Turnovers and red-hot University of Florida (UF) Gator shooting led the Ospreys to a first-round loss in the National Invitation Tournament (NIT) Tuesday night at UNF Arena.
The Osprey's 97-68 loss in front of 6,011 people ended their season with a record of 22-12.
Head Coach Matt Driscoll recognized the impact of his seniors.
"I think off the floor they may have had a greater impact," Driscoll said. "These emails that we get and the way people feel about our guys as human beings, as coach it is really, really hard to put into words what [they have] done [for] this university."
The Ospreys were dominated by Florida in the first half, turning the ball over 13 times which led to 21 Gator points. UF only gave up three points off four turnovers.
Florida was on fire from behind the arc in the first half, going 12-18 (66.7 percent), while UNF shot 28.6 percent. The Gators made five consecutive threes and went on an 11-0 run in the closing minute before halftime, sending them to the locker room with a 32-point lead.
When the game picked back up, the Ospreys came out quick and began chipping away at the lead. Chris Davenport hit his opening three of the half, and point guard Dallas Moore started to find his way to the basket.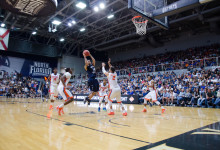 Moore scored 18 points in the second half, and Davenport added 12.
Despite a better second half effort, the Ospreys could not shake the turnover bug. Florida came in forcing 13 turnovers a game, but UNF committed 21 turnovers leading to 27 Gator points.
Senior Gator Forward Dorian Finney-Smith talked about the Gator's game plan coming in.
"We knew [the Ospreys] were a great shooting team, they shoot the three ball one through five you know," Smith said. "We wanted them to shoot contested twos."
Six Gators finished in double digits, with forward Dorian Finney-Smith scoring a team-high 15 points. 12 of KeVaughn Allen's 13 points were the result of four treys he made in the first half, and center John Egbunu scored 13, despite wearing a soft cast to protect torn ligaments in his right thumb which limited his handle.
Gator Head Coach Mike White announced after the game Egbunu will have surgery on Thursday, ending his season.
Dallas Moore tallied up 23 points, but turned the ball over five times.
The Ospreys only had three players get to double-digit scoring.
Forward Beau Beech had 14 points, and four rebounds, but committed four turnovers.
The Ospreys are now 0-5 all-time against the Gators and 0-14 against SEC opponents.
Moore talked about what's next for the team.
"We are going to have a totally different team next year," Moore said. "I mean we have four seniors leaving and they played a big role so just going to have to get ready in the off season and put in the work."
The Osprey's 2015-2016 season comes to an end, but after making their second-consecutive postseason appearance, the future looks bright for the Birds of Trey.
—
For more information or news tips, or if you see an error in this story or have any compliments or concerns, contact [email protected].