How to grocery shop without mom's help
Keeping food in the pantry can be a challenge for a college student on a budget. The fast-food runs seem cheap but they start to add up, and there's no reason to spend money on bad food. Cooking your own meals is inexpensive, and provides your body with the nourishment it needs to stay on the go. We've compiled two lists — one vegan friendly, and one for the meat-eaters — to help you out on that trip to the grocery store without mom.
Staples for every vegetarian/vegan pantry
Grains – Couscous and oats are cheap and cook quickly.
Beans – Cooking them yourself is best, but it's time consuming. Have a few cans of black beans, red beans and chickpeas stocked up.
Almonds – Slightly on the expensive side, but you can toss them in salads, oatmeal or trail mix.
Coconut oil – Not only used in cooking — check online for its countless uses.
Coconut milk –

Keep a few cans around for quick, Asian-inspired dishes.

Noodles – Quick and simple. Spaghetti, rotini, penne, or soba and udon for Asian dishes.
Protein – A veg pantry isn't the same without tofu or tempeh.
Veggies – Grab versatile ones such as carrots, garlic, onions, peppers, tomatoes and kale.
Fruits – Bananas, apples and strawberries are great to have around.
Sriracha – No explanation needed.
Thai green curry
With its simple ingredients, low cost and quick cook time, this recipe is a must for the vegetarian/vegan college student on the constant go. Make it for dinner and save the leftovers for lunch on campus, or spice up the chill with some culinary finesse before turning to Netflix. Remember, food is art. Take this recipe and make it your own by adding extra veggies, baking the tofu beforehand, or giving it a kick with some Thai peppers. Either way, you're guaranteed to have a good meal (or two) without breaking the bank. Yields enough for 2-3 people.
Ingredients
3-4 tablespoons Thai Green Curry Paste
1 pound (one packet) extra-firm tofu
1 cup sliced carrots
1 red bell pepper, seeded and chopped
2 cups green cabbage, shredded
1 cup fresh basil, chopped
1 (15-ounce) can coconut milk
1 cup bean sprouts (optional)
Make it
Heat one tablespoon of coconut oil in a large sauté pan over medium-high heat.
Add tofu, carrots, bell pepper, cabbage and basil as you chop them into the pan. Stirring occasionally, cook until tofu begins to lightly brown.
Add coconut milk, curry paste and any spices of your choosing (I like to kick it up with some Sriracha). Cover the pan with a lid and allow to simmer for 5 minutes.
Remove from heat and add the (optional) bean sprouts. Allow the curry to cool for a few minutes, the sauce will begin to thicken as it cools.
Feast!
How to stock your cabinet if you want to eat meat, too
Meats – chicken breasts, ground beef, and pork shoulders can make any meal you dream of.
Spices – cumin, nature's seasons, chili powder, salt and pepper go with anything from meats to pastas to soups.
Canned tomato products – one can tomato paste and one can whole tomatoes make a killer homemade red sauce.
Secret ingredients – garlic, onions, green peppers and scallions will top off your dish with professional flair.
Sauce marinades – Teriyaki and Soy Sauce turn any chicken breast into a masterpiece.
Slow-cooker chicken burrito bowl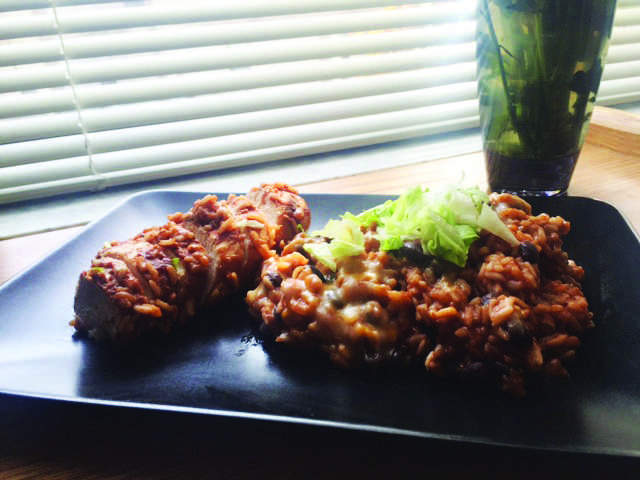 The kickin' curry is great for any taste you may have, but if you like your meal to have some meat on its bones, try this Slow-Cooker Chicken Burrito Bowl. This Mexican food experiment is the perfect thing to get going on a lazy Sunday when you have a little more time to make something nice for you and your roommate. Throw this in a slow-cooker or a big pot on low on the stove, and lounge around an incredible-smelling dorm or apartment that'll make the whole building want to come out for a bite. Yields 2-3 servings.
Ingredients
2 chicken breasts
2 tablespoons cumin
1 tablespoon chili powder
1 tablespoon fajita seasoning (optional)
2 cups chicken broth
four-cheese Mexican blend
½ can black beans
1-8oz) can tomato sauce
2 cups brown rice
Make it
Place chicken breasts in the slow-cooker or large pot on stove, and pour broth over them.
Add in the cumin, chili powder, fajita seasoning and tomato sauce.
Cook on low heat for about 2 hours (if you have a meat thermometer, it will read 165 degrees).
Remove chicken from slow cooker.
Turn to medium heat (high on slow cooker) and add in the rice and black beans.
Cook for about 15 minutes, or until rice is tender. Add chicken back in, top with cheese, and serve with diced tomatoes, corn or avocado!
—
For more information or news tips, or if you see an error in this story or have any compliments or concerns, contact [email protected].