You've got two-hours of cardio training every morning during the week, strength training in the afternoons, a 15 mile run on Saturdays and eight track meets sprinkled throughout the spring semester.
How would YOUR grades be looking?
Eden Meyer and Justin Bryan excelled academically despite this grueling schedule and were each awarded the ASUN Scholar Athlete of the Year and named to the ASUN All-Academic team for track and field thanks to their stellar performances in the class and on the track.
A sophomore biology major, Eden earned her third All-Academic honor thanks to a perfect 4.0 GPA to accompany a first-place finish in the 10,000m in the outdoor conference championship for the UNF women's track and field team. She shared the Scholar-Athlete of the Year honor with Jacksonville's Samantha Turner.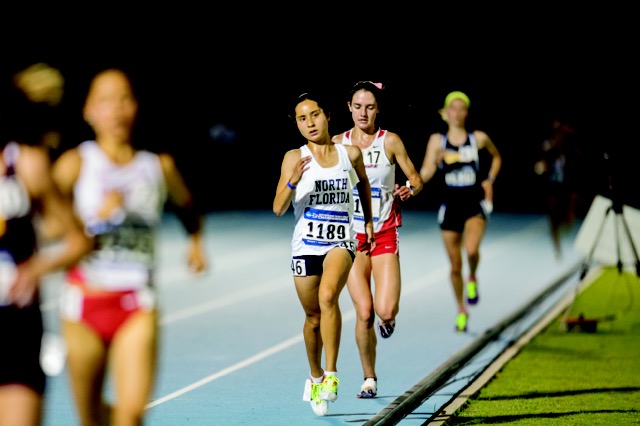 For Meyer, the grind of balancing school and sports is something she embraces as a tool rather than a hindrance. Her time on the track is a welcome reprieve from booster-seat sized textbooks about organisms and chemical equations that biology students must live by. The rigid track schedule forces her to plan ahead; a skill she mastered well enough to ensure she never had to pull an all-nighter during the semester and was asleep by midnight each night during finals week. Her homework travels with her like carry-on luggage, no matter the destination. Eden wrote multiple papers in-between track meets while in Los Angeles, and an eight-hour team bus ride to Alabama offered the perfect place to catch up on homework.
Brain power, work ethic and lung capacity seem to run in the Meyer family genes, evident by the fact that her twin sister, Grace, was also named to the ASUN All-Academic team for Outdoor Track and Field. Not to be overshadowed, Grace also owns a 4.0 GPA and is majoring in political science and economics. Grace set a personal best time in the 10,000m (39:18) during the last meet of the year to cap of a solid outdoor season.
"Those two together are such a team." track and field Director Jeff Pigg said. "They have a close-knit family who are very supportive of each other and invested in each other."
The sisters spend countless hours studying and training together, providing one-another with help on difficult work, laughter during marathon library visits and motivation during long runs.
"It's always nice to have her there so if I'm getting tired or frustrated she's going through the same thing so we can help and motivate each other," Eden said. "It's one of the most helpful things."
For Justin Bryan, this marks the second-consecutive year the senior has been honored as the Scholar Athlete of the Year. Last year he shared the award with Lipscomb's Wayne Newman and Northern Kentucky's J.J. Webber. Bryan, a health science major, boasts a 3.98 GPA and capped his college career with a fifth place finish in the 10,000m at the ASUN Championships. He has been recognized seven times for his academic achievements, three times for indoor, three for outdoor and once in cross country.
Bryan maintained his sky-high GPA thanks to a strict, 12-14 hour schedule during the spring semester. He started each morning with a half-hour run before the sun came up, before attending three hours of classes that started at 9:25 a.m. When classes let out around 1:30 p.m., he high-tailed it to the track for a three-hour practice with the team. After practice, Bryan wolfed down dinner and hit the books until 11 p.m., at which time he went to sleep and prepared to do it all again the next day.
Bryan talked about the difficulty of being a successful student athlete.
"It's pretty darn tough, being an athlete is pretty much a full-time job," Bryan said. "It's been tough, but it's really made me who I am and taught me how to manage my time and my priorities."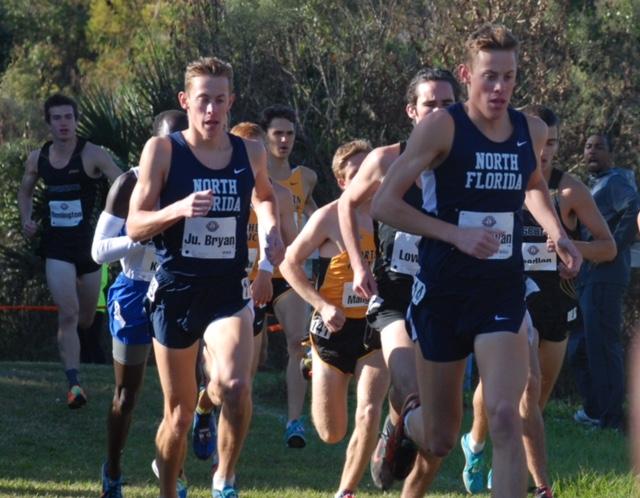 Bryan's work ethic and strategies for success in school and track are very similar to what Eden Meyer described. His homework was a constant companion on far-away track meets, and he took pictures of the pages in his textbook on his iPad to minimize the load on long trips. Despite the intense workload required of health-science majors, Bryan was rarely up past midnight cramming for exams or scrambling to finish projects. One of his worst memories occurred last spring during finals week, when an anatomy final creeped up on him. Bryan knew he had practice the morning of the exam, so after practice the day before, he went on a 12-hour study binge from noon to midnight.
The high-wire balancing act of managing school and sports isn't the only thing Meyer and Bryan have in common. Bryan also has a twin, Jeremy Bryan, on the track team, and his twin was also named to the ASUN All-Academic team for Outdoor Track and Field. Jeremy Bryan, like his brother, is a health science major who holds a 3.90 GPA and finished his college career in the 10,000m at the ASUN Championship like his brother.
Much live Eden and Grace, Justin and Jeremy rely on each other to compare notes, talk out problems they're having and quiz one another
"It's made a huge difference having someone that's always there," Bryan said. "We push each other, were always studying together and we count on each other."
While Justin and Jeremy's college track career has come to an end, they don't plan to stop running. The boys have already signed up for the Disney World Marathon next January, and will begin training in August.
Both Eden and Justin have high aspirations for life after college. While Eden hasn't narrowed her dream job down to a particular position, she would love to go into the medical field, whether it be through medical school or some other route. After Justin finishes his degree, he hopes to get into UNF's physical therapy program and work at a hospital. His ultimate dream is to become a physical therapist at a Mayo Clinic in Jacksonville.
—
For more information or news tips, or if you see an error in this story or have any compliments or concerns, contact [email protected].