It was 30 minutes past midnight and the NBA draft had just ended, when Beau Beech got the call. He was sitting in Mellow Mushroom, flanked by his girlfriend and close friends, when his agent called to inform him he would be joining the Brooklyn Net's Las Vegas Summer league team.
Beech received offers from three other teams: the Atlanta Hawks, San Antonio Spurs and Orlando Magic. However, during his workout with the Nets earlier this summer, Beech was blown away by how detail-oriented and committed the team was to each player's individual success.
The Nets, whose depth and assets are considered by many to be the worst in the league, currently have just two other small forwards under contract, so Beech will likely have an opportunity to impress the coaches this summer.
As the NBA places more and more value on players who can make three's, Beech thinks he can fill a team's need as a three-point shooter who can rebound and play great defense. At 6 feet 9 inches, he shot 42 percent from three last year and averaged 15.9 points and 6.5 rebounds per game. He was also a first team all-conference selection in the Atlantic Sun the past two seasons and led the Ospreys to consecutive regular season championships.
Beech, who finished his four-year career at UNF as the program's second-leading scorer, has been preparing for this opportunity for years. His license plate reads "2 NBA" – a constant reminder of the goal he set for himself.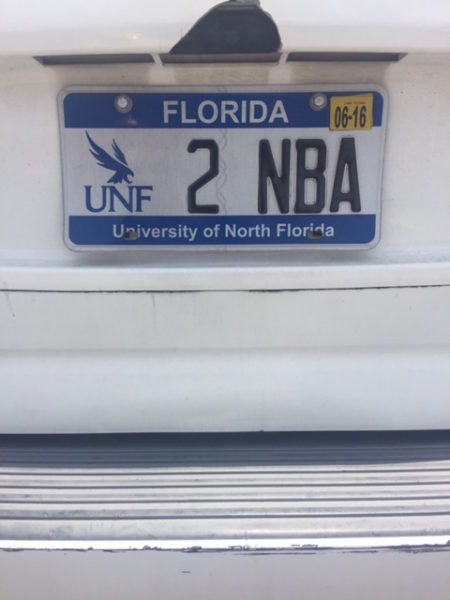 Head Coach Matthew Driscoll spent the last four years watching Beech progress. Driscoll remembered a game during Beech's freshman season, when the young forward led the team in scoring with 15 points against powerhouse Kansas State.
"When you have that kind of heart, that kind of passion, that kind of drive, it's kind of hard not to be successful," Driscoll said.
Beech has spent the summer working out with current NBA players, such as the Orlando Magic's 7-foot center Dwayne Dedmond, and Cleveland Cavaliers' second-round pick Kay Felder. He will continue to work on his game until the summer league tournament starts July 10.
As for Driscoll, he will work on replacing the legendary Osprey.
"It's all come to fruition. The winning, the aura, what he's done for school, what he's done for himself," Driscoll said. "When you use the word replace, its kind of a tough word to use with some people."
—
For more information or news tips, or if you see an error in this story or have any compliments or concerns, contact [email protected].