Player Profile: Al-Wajid Aminu
Leading up to the start of basketball season, the Spinnaker will be profiling the incoming recruits for the 2016-2017 season.
Al-Wajid Aminu
A 6-foot-7-inch power forward from Stone Mountain, Ga. Al-Wajid Aminu signed his letter-of-intent to play with the Ospreys during the early signing period last November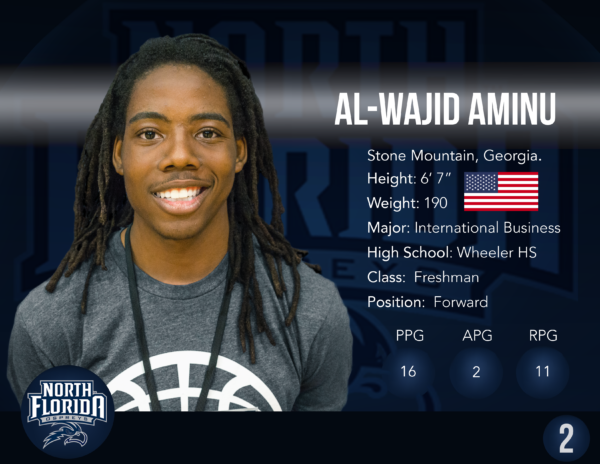 Strengths
Aminu is very athletic for his size, which allows him to attack the basket and finish strong around the rim. His speed makes him a dreadlocked-blur in transition, and he is a creative scorer that finishes with both hands in one-on-one situations. Not only is he more athletic than most power forwards his age, but he's also a high-energy player with an excellent motor who has a knack for running down loose balls. His energy and size made him a beast on the boards in high school, as he averaged 11 rebounds per game. He consistently crashes the boards for offensive rebounds and is always geared up for a highlight-reel put-back dunk. Aminu's most valuable attribute is his defense, where he says he takes the most pride in his game. His quick feet allow him to stay in front of most two-guards, and his size prevents him from getting backed down by bigger forwards in the post. A tenacious, versatile defender is something the Ospreys desperately need. The team allowed opponent's to score nearly 80 points per game last season, which was 327th in the nation.
Weaknesses
Aminu must work on the finesse aspects of his game. For one, he lacks a consistent shot from behind the arch. This allows defenders to play off him, daring him to shoot, which hurts the floor spacing for point guard Dallas Moore who loves to drive to the basket. He has a very quick first step off the dribble, but he can't use his speed if defenders don't respect his shot. Second, he's got to develop a better handle in the post and improve his passing. Most of Aminu's scoring opportunities will come in the paint, and he has to maintain control against the length of college defenders and make the proper pass when help defense closes in.
How does he fit?
With only three other forwards on the roster, Aminu will likely see minutes his freshman season. His rebounding and defensive abilities could earn him a spot as a reliable back up behind Chris Davenport in a "small ball" lineup. The Osprey's will lack the floor spacing they've grown accustomed to in recent years, so I don't see him getting many minutes alongside 6-11 center Romelo Banks. A hybrid forward, Aminu has the ability to play both power and small forward, so he could see more minutes than other newcomer thanks to his versatility. If his handle and shot improve enough, I could even see him eventually getting time at guard, which would be a nightmare matchup for opposing coaches.
Comparison
Aminu should stick to Chris Davenport like glue and work on developing the same way he did. Davenport's shooting has gotten better every year, and last season he made more three's than in his first two seasons combined. Aminu lacks Davenport's size, but has more upside and a higher ceiling if he develops his game correctly.
—
For more information or news tips, or if you see an error in this story or have any compliments or concerns, contact [email protected].