Player Profile: J.T. Escobar
Leading up to the start of basketball season, the Spinnaker will be profiling the incoming recruits for the 2016-2017 season.
J.T. Escobar is a 6-foot-2-inch guard who is transferring to UNF from Ole Miss. He will sit out the 2016-2017 season due to NCAA transfer requirements.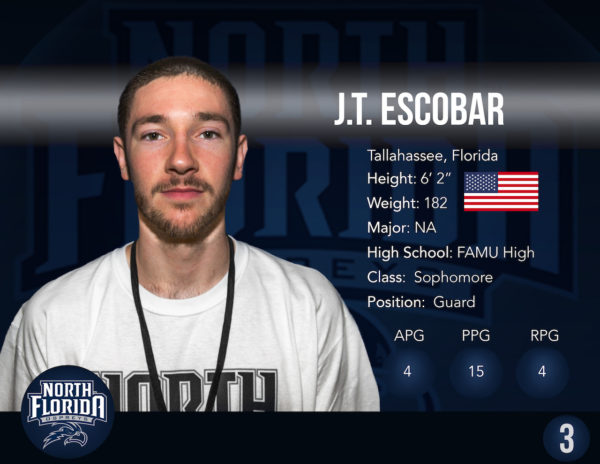 Strengths
When Escobar steps on the court, he will instantly be one of the best scorers on the team. Ranked by 247Sports as the 34th best player in Florida coming out of high school, Escobar toyed with high-school competition, averaging nearly 30 points per game and shooting 45 percent from three. He's an excellent shooter with a lightning-quick release and is liable to launch from deep if he's given an inch of space. On drives to the basket, he can flick quick, looping floaters over taller defenders, or find crafty ways to finish ambidextrously around the rim. 10 of the 12 guys from Escobar's prep team signed to Division 1 schools, and at Ole Miss he played against teams like Kentucky, LSU and Vanderbilt, so adjusting to A-Sun competition shouldn't be a problem. According to former Ole Miss beat writer Browning Stubbs, Escobar was an excellent practice player and teammate, whose intensity stood out. His energy should keep teammates focused and make the squad better.
Weaknesses
Escobar's downfall is on the defensive end. At Ole Miss, lackluster defense was the reason he saw only seven total minutes in his last seven games. The athleticism of the SEC was a challenge for the young guard, and he never found the shooting rhythm that makes him so dangerous. At just 6-foot-2, he doesn't have the athleticism necessary to compensate for his lack of size, and if he isn't shooting well from beyond the arc he disappears on offense.
How does he fit?
Escobar will be eligible to play in the 2017-2018 season, and the Ospreys will need him. Next year, the team will lose the school's all-time leading scorer (Dallas Moore), a player with the highest three-point percentage in A-Sun history (Aaron Bodager) and a thousand-point scorer (Chris Davenport). The offense will be on life-support, and Coach Driscoll will rely on Escobar to take the point-guard reigns from Moore and keep the program on the upswing. Escobar can play point guard or shooting guard, so I see him immediately getting starter minutes. His experience, combined with talent, gives the team a mature leader to lean on and learn from.
Comparison
Utah Jazz point guard George Hill is a player with a similar skill set to Escobar. Like Escobar, Hill is a dangerous three-point shooter and can finish tough shots around the rim. At just 6-foot-3, Hill is also undersized, but he makes up for it with excellent passing and good defense, two aspects Escobar must improve upon.
—
For more information or news tips, or if you see an error in this story or have any compliments or concerns, contact [email protected].