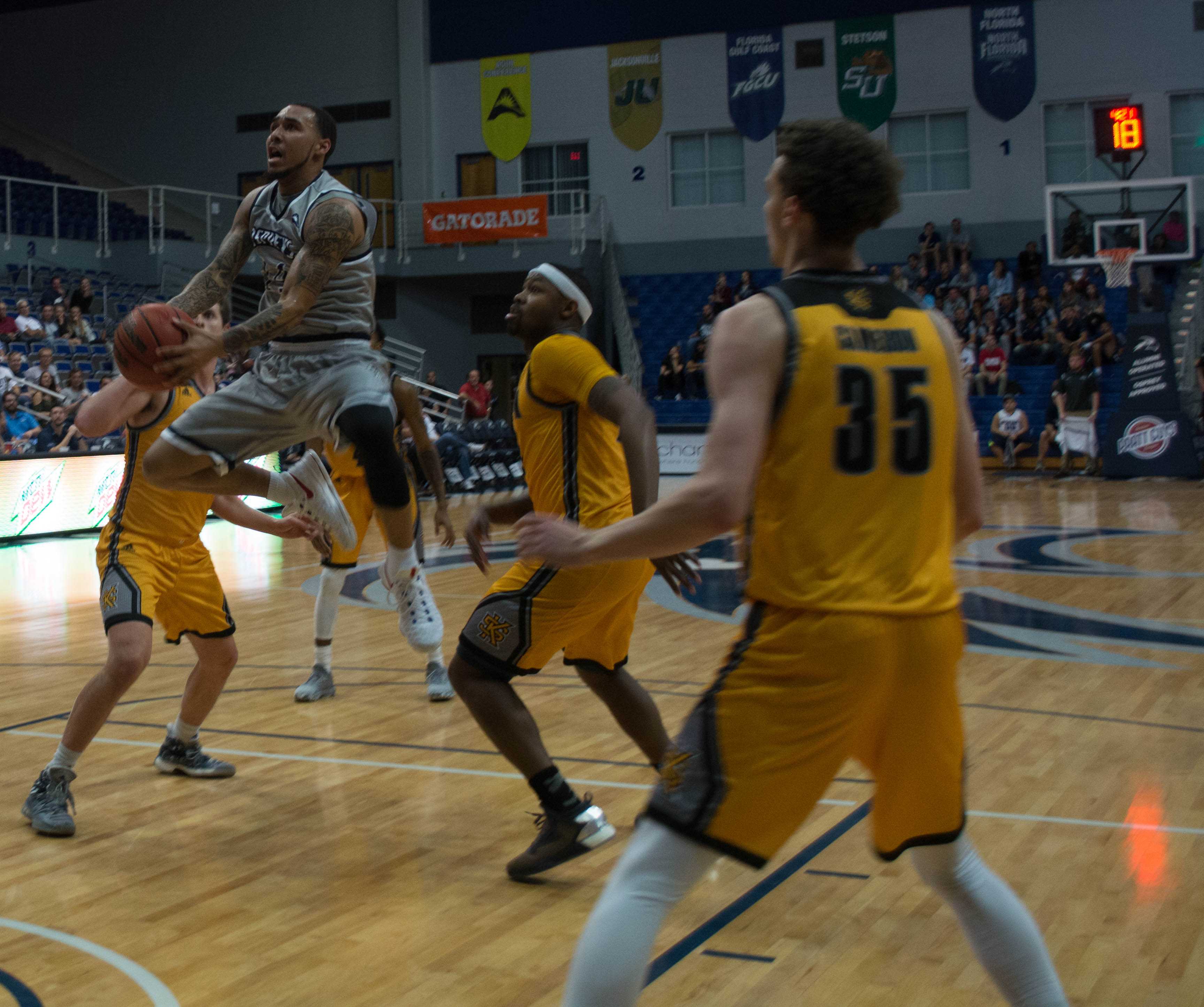 Coming off the upset loss to NJIT, the Ospreys (8-13 overall, 3-1 ASUN) faced a crucial three-game home stretch to prove whether or not the loss was a fluke or an omen. Their first challenge back from their road trip was Kennesaw State (7-13 overall, 1-3 ASUN.)
Senior superstar Dallas Moore got off to a fast start averaging a point per minute for the first half, but he was the only Osprey to reach double digit scoring before the break.
With both teams shooting 47 percent or better from the field, the first half was a tightly contested game with three lead changes and the score tying four times.
However, Kennesaw State's double digit scoring from forward Aubrey Williams and guard Ray Kendrick boosted to a 42-39 advantage at halftime.
For how tight the score was, North Florida couldn't seem to hold on to the ball. The Ospreys were dominated in the turnover battle 13-4. Despite trailing for most of the game, the Ospreys managed to take the lead with a minute left.
Senior guard Aaron Bodager put the game in jeopardy with a flagrant foul that allowed the Owls to re-tie the game from the line at 81 after a clutch layup.
Then it was senior forward Chris Davenport's turn to show off the clutch with a seemingly back-breaking three pointer.
Despite all odds, Kennesaw State managed to respond with less than ten seconds left when Nick Masterson sank a shot from beyond the arc to put the pressure back on North Florida. In the end with two seconds left on the clock, it was Moore who would save the day for the Ospreys with a game winning two-pointer that sealed an 86-84 win for the Ospreys.
The game ended with both teams shooting over 50 percent from the field. Head coach Matthew Driscoll commented on the competitive shootout.
"Having the ball last helps," Driscoll said. "If you're a college basketball fan there's limited turnovers, guys made some big plays, some controversy, some big shots, enormous blocks it was just a great college basketball game."
Next North Florida faces Lipscomb at the UNF Arena on Jan. 21 at 7 p.m.
__
For more information or news tips, or if you see an error in this story or have any compliments or concerns, contact [email protected].