Slow second-half downs Ospreys at FGCU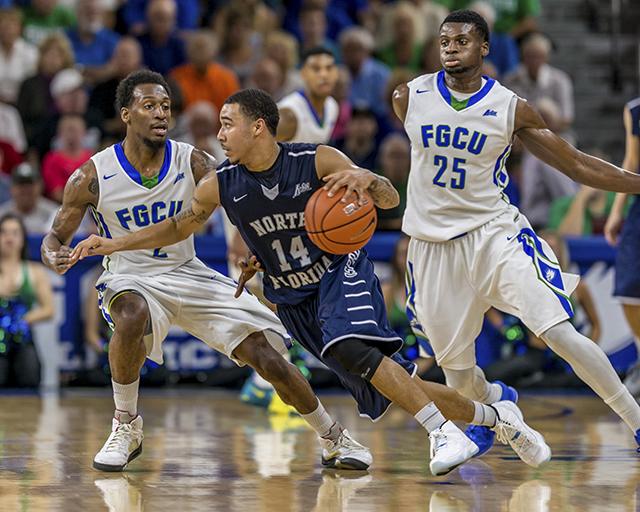 Only a few games removed from being in contention for first place, North Florida (9-16 overall, 4-4 ASUN) finds themselves sinking fast in the ASUN. In their latest contest on the road against the number one seed FGCU (18-6 overall,7-1 ASUN), the Eagles came out on top with a 74-59 victory.

Early in the game, North Florida held their own. When the Eagles scored the first nine points, the Ospreys responded by scoring the next eight. In fact,the Ospreys managed to trim two large deficits throughout the game and use momentum to stay competitive.

However, the Ospreys struggled in defensive rebounding and transition defense. North Florida allowed 18 points off of turnovers, 14 fast-break points and 16 second chance points. The Ospreys only had 14 combined points from those three facets of the game.

Senior Dallas Moore contributed 17 points and redshirt junior Romelo Banks managed to break double digits as well while the rest of the Ospreys starters only combined for ten points, so North Florida looked for their bench to step up. Luckily for North Florida, senior forward Chris Davenport answered the call once again and scored 20 out of the 22 bench points.

Key start of the game included the Ospreys only going 3 for 10 from the stripe, while the Eagles had a field day. As a team, FGCU converted 19 free throws and combined for 73 percent from the line.

All of these factors combined with being outmatched 40-27 in the second half allowed the Eagles to lock down control of the game and the conference with a 74–59 victory. The Ospreys look to save their season at home against Stetson Feb. 4.
__
For more information or news tips, or if you see an error in this story or have any compliments or concerns, contact [email protected].