The Birds of Trey return with a win over NJIT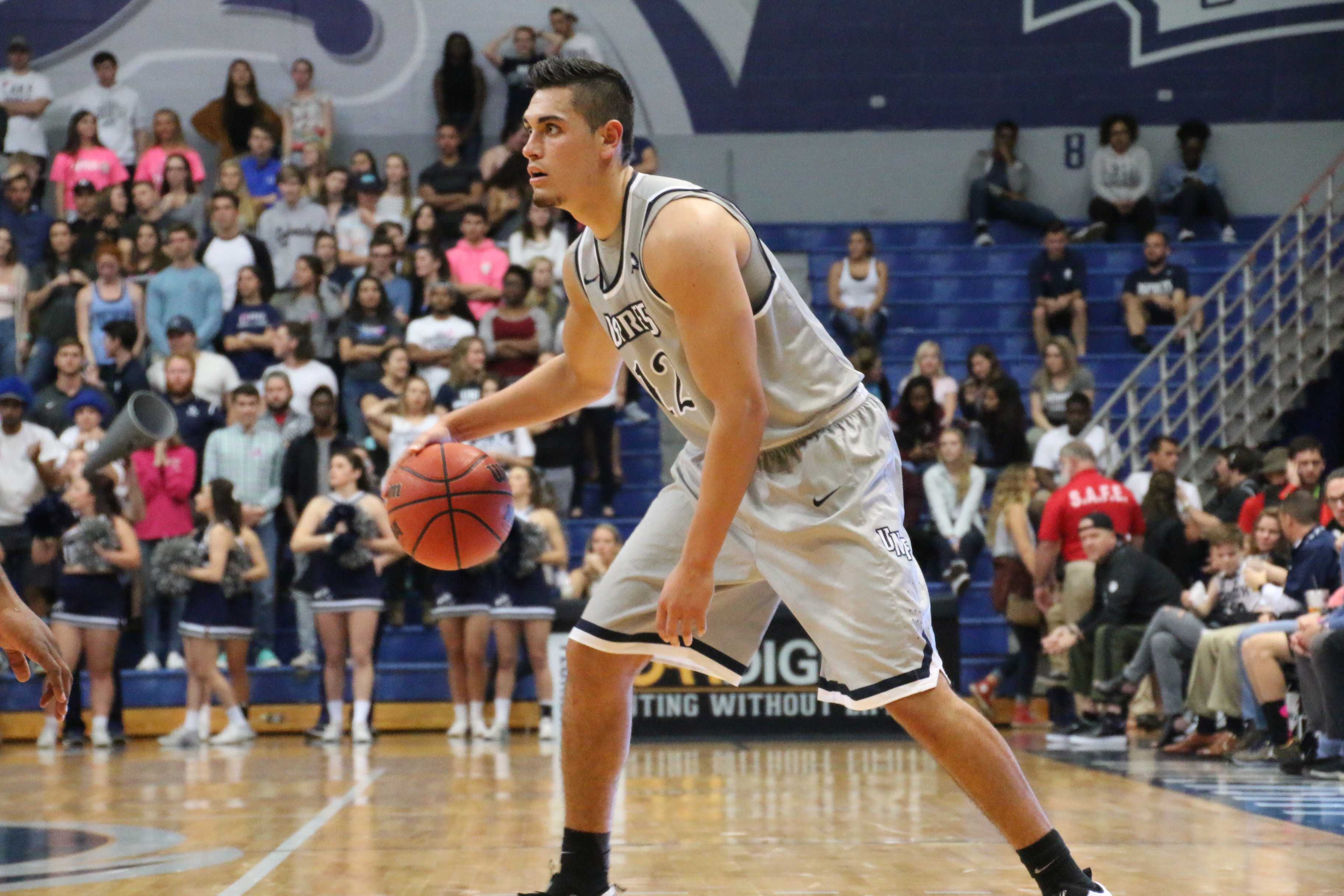 North Florida lived up to their nickname, the Birds of Trey, Thursday night as they shot 52 percent from the three point line for the 91-69 win. All five Osprey starters scored in double digits.
"There is a great spirit about this group, you can see it on the floor by how they coach each other," said Head Coach Matthew Driscoll.
The Ospreys struck first when Dallas Moore downed a ball from behind the arch. That three would be the first of a game-high 28 points for Moore. UNF went up 3-0, but NJIT got hot from behind the line making four three-pointers sending them on a 12-0 spurt.  
Moore credited his superb senior season to "getting his body right." He is now taking advantage of practices off the court to keep himself in shape such as the Normatec, a masseuse and a chiropractor.
The Ospreys began to chip away at the lead as Aaron Bodager got going from behind the three point line after missing a few early. Once Bodager started he could not stop, making 50 percent of his shots from three point line. All 12 of his points were from treys in addition to his six rebounds.
"When you're knocking down shots everything flows more easily defensively," said Bodager.
Freshman Wajid Aminu also added on 12 points of his own and grabbed eight rebounds, seven of which were offensive.
UNF would go on a 19-0 run to end the first half, going into halftime 43-26.
Out of the break, Romelo Banks was dominating the post making his presence felt. Beginning the second half, Banks made four of UNF first five field goals. He would end the game with 10 points and six rebounds.
Chris Davenport did not have double-digits in scoring nor rebounds, but he assisted a career and game-high 13 baskets. He may not have been huge offensively, but he was a pivotal factor in moving the ball for the Ospreys, and passing up good shots for better ones.
The whole team is getting in better shape and credits the coaching staff. Driscoll and Moore are in a friendly competition to see who has the lowest body fat, and Driscoll is winning. Driscoll's body fat is 5.2, while Moore's is 5.8, but that is a huge improvement for Moore considering last year he was "floating towards 10 [percent body fat]," according to his head coach.
Next they will face USC Upstate during the homecoming game on Feb. 11. The game begins at 7 p.m. in the UNF Arena.   
__
For more information or news tips, or if you see an error in this story or have any compliments or concerns, contact [email protected].