Men's tennis wins on Senior Day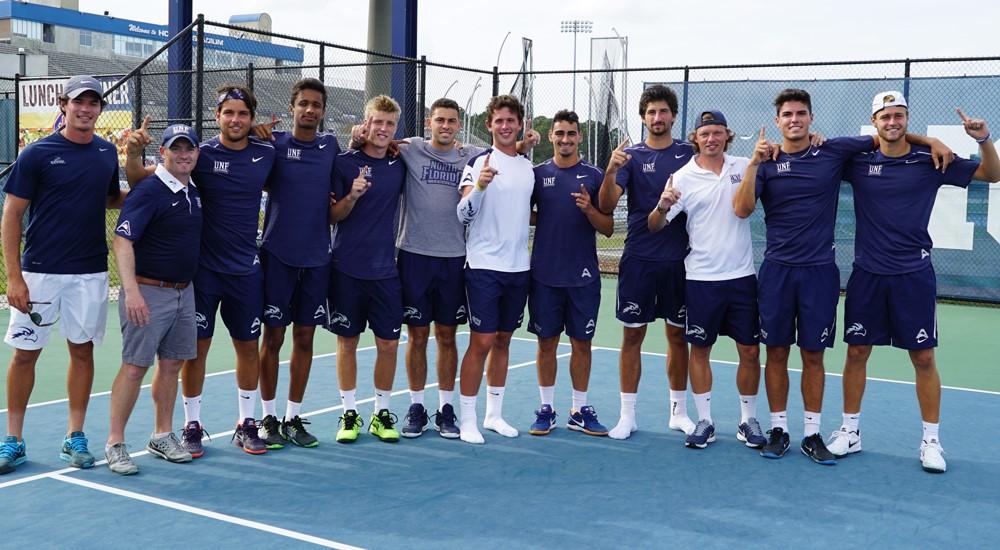 The Ospreys clinched their fifth ASUN regular season title on senior day after taking down Stetson, 5-2 on April 15.
To kickoff the game, UNF started off strong. They grabbed the doubles point after wins in the No. 2 and No. 3 spot.
Needing only two of the three doubles matches to receive the doubles point, junior Jefta Kecic and senior Jack Findel-Hawkins,' ranked 75th in the nation, match was called after the two first wins.
The duo were leading in the No. 1 spot and were one game away from victory when the match was called.
This doubles point win marked the 19th doubles point victory for the Ospreys this season.
Keeping up the energy, the Ospreys were ready to take flight and capture the singles matches.
North Florida took home four of the six singles wins with a few noteable performances during the game.
Sophomore Sahil Deshmukh defeated his opponent 6-1, 6-1, earning him an undefeated 5-0 record in ASUN play.
Findel-Hawkins, ranked 67th in the nation, extended his singles game win streak to three games after defeating his opponent 6-4, 6-2 on his senior day game.
Senior Yannick Zuern defeated his opponent in a tough three-set battle at the No. 3 spot on his senior day.
Junior Lasse Muscheites played in the No. 4 spot when he clinched the win for the Ospreys after his singles victory.
"Our team is beginning to become a real team because every single match someone else is stepping up to win a big match for us," said head coach Mark Finnegan.
UNF earn the No. 1 seed in the ASUN tournament and a first-round bye after this win.
"Now we are excited to move forward and be done with the regular season, and now prepare the best way we possibly can for the conference championship to put us in the best situation to be successful," said Finnegan.
North Florida heads to Fort Myers for the ASUN tournament on Saturday.
__
For more information or news tips, or if you see an error in this story or have any compliments or concerns, contact [email protected].