Men's Tennis falls to FGCU for ASUN Championship game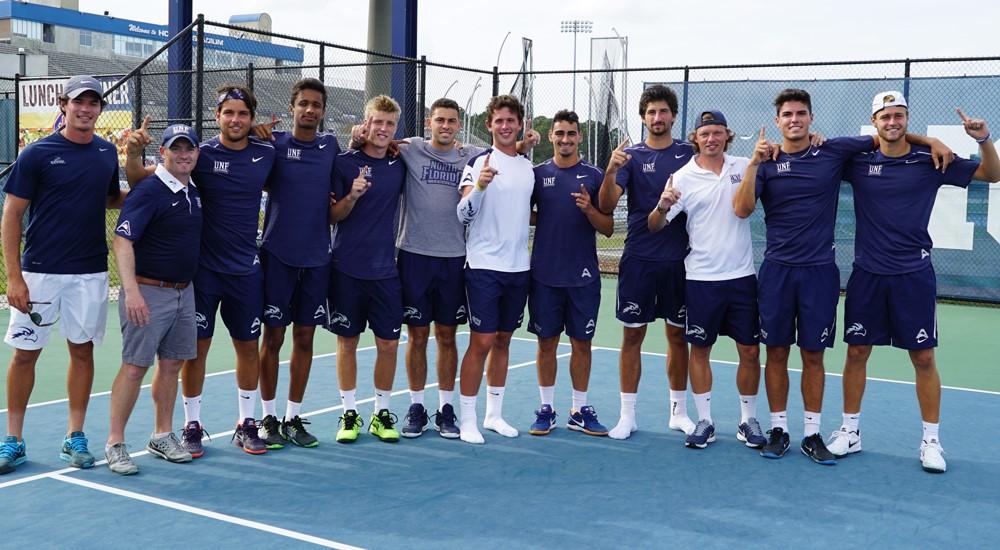 The first serve of the men's ASUN championship title game was originally scheduled for 5 p.m. Sunday, but mother nature said otherwise. Clouds covered the sky and downpour soaked the tennis courts causing the delay.
A little before midnight, the doubles matches finally began, and the UNF Ospreys suffered a heartbreaking loss to the FGCU Eagles.
The Eagles played strong in the doubles matches. They were able to grab a 6-2 win in the No. 3 spot, but the Ospreys were ready to continue the fight. Senior Jack Findel-Hawkins and junior Jefta Kecic tied the matches 1-1 after their 6-4 win in the No. 1 spot.
However, the Eagles took home the tiebreaker win 7-6 against the Ospreys on the No. 2 court.
Due to the conditions of the court, the one to three spots started their singles matches while the four to six spots waited to play.
The battle got tough as four of the six singles matches went to three-sets including a close tiebreaker in the first set.
Nationally-ranked senior Findel-Hawkins was a powerhouse during his singles match. While Findel-Hawkins' match went to three-sets, he pushed through his last set to grab the first singles win for the Ospreys.
Senior Yannick Zuern followed close behind, clinching a win at the No. 3 spot and pushing the overall score to 2-2.
With rackets still swinging, junior Lasse Muscheites won his match in the first two sets giving the Ospreys a 3-2 lead.
After the Eagles comeback in the No. 5 spot, the score was left tied at 3-3 leaving it to sophomore Jonathan Deautriell to play the tiebreaker match in the No. 6 spot.
Unfortunately for the Ospreys, the Eagles would seize the win shortly after 3 a.m. The final score was a close 4-3.
The Ospreys finished their season 14-7 and will now wait for the NCAA player selections for doubles and singles for the NCAA tournament in Athens, GA.
—
For more information or news tips, or if you see an error in this story or have any compliments or concerns, contact [email protected].