Jack Findel-Hawkins: The History Maker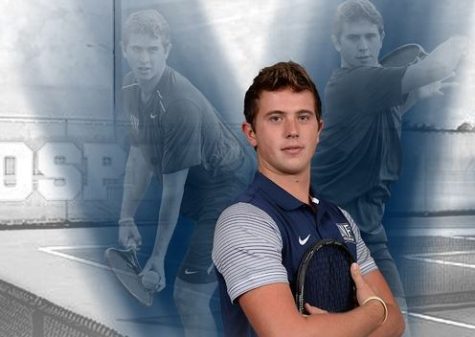 Hailing from Exmouth, England, senior Jack Findel-Hawkins has left his stamp on the UNF tennis program.
 Making his way to the United States at 18 years old, Findel-Hawkins left behind his hometown near the beach to make his way toward the state of Florida. While he did miss his friends and family, Findel-Hawkins began to enjoy his time in the Sunshine State.
 As Findel-Hawkins grew older, he began to improve his game. With a more mature head on his shoulders, he made it all the way to the Elite Eight in this year's NCAA tournament.
 He will now be working with a tennis coach in Jacksonville, Fla. before going off to play the sport he loves professionally.
 As the seven-time ASUN Player of the Week and the 2017 ASUN Player of the Year, Findel-Hawkins takes a look back at his time as an Osprey.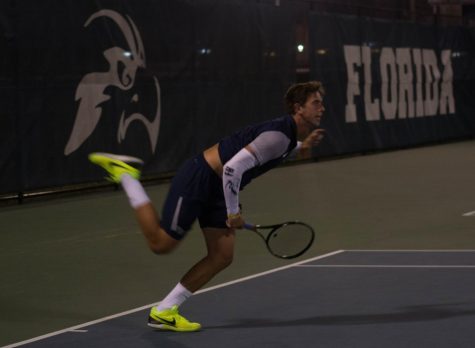 Spinnaker: What made you start playing tennis?
Jack Findel-Hawkins: I was probably about six or seven years and there was a program that came out to all the elementary schools in the area [and] gave free lessons. [They] picked out some kids that showed potential [in] tennis. I was invited to the local tennis center in my town and that was it really. I played tennis from there on.
Spinnaker: When did you come to the United States?
JFH: I came over when I was 18 as a freshman. [I came to] UNF a couple of months prior to see the school in person, but that was my first time coming to the states.
Spinnaker: Do you plan on staying in the United States or do you plan on returning home?
JFH: I'm going to be here for probably another year. I'm going to finish up my degree then around January I am going to start playing professionally. Until April or May time I will probably be in the states for sure. Then after that I will probably be in Europe over the summer, and then I will be following a tournament schedule.
Spinnaker: Do you ever go back home?
JFH: I normally go back for the summer, and I always go back for Christmas. This summer I'm not. I'll be [in the states] finishing up a class, but I normally go home once or twice a year for a few weeks each time.
Spinnaker: What made you choose UNF?
JFH: I was recruited by the old tennis coach. I was looking at a lot of different schools, but I really liked the thought of doing things for the first time at UNF. Like trying to go to the NCAA as a team was really exciting for me. The coach that was here was a really good coach and could help us do that. Unfortunately he left about two days before I came out to the states, but we were fortunate enough that the coach that replaced him was easily as good.
Spinnaker: What is it like going to the NCAA tournament?
JFN: I think it is a really cool tournament to be a part of. For me it is like the highlight of the year for tennis players. To go on a run in the tournament was really cool, and to have that as my finish to college tennis was kind of perfect. I really enjoyed it.
Spinnaker: What would you say is the biggest difference in your game from your freshman year to your senior year?
JFH: Just being able to consistently perform at a high level is something that [I've] gotten better [at] every year. I think as a freshman and sophomore I would perform highly and then struggle at times. Unfortunately, I suffered a few injuries over my years here, but my senior year I really worked hard to make sure I could go a whole year without getting injured. I was able to do that.
Spinnaker: What would you say is your biggest accomplishment of your career?
JFH: As a team, going to the NCAA tournament my junior year was a huge accomplishment. Then for me personally, to finish up getting to the NCAA Elite Eight in singles and being All-American. It was a really great way to finish out.
Spinnaker: Is there anything you're going to miss?
JFH: Yes. Tennis is such an individual sport, so having a team of guys around you everyday, I'm really going to miss that. Seeing the guys, working with the guys everyday, traveling to matches and tournaments in all of the states is a lot of fun. Having that group of guys around you that are working to the same goal, I'll miss that. I'll miss a lot of things, but that I think I'll miss the most.
—
For more information or news tips, or if you see an error in this story or have any compliments or concerns, contact [email protected].