Eden Meyer Finishes 15th in the NCAA Finals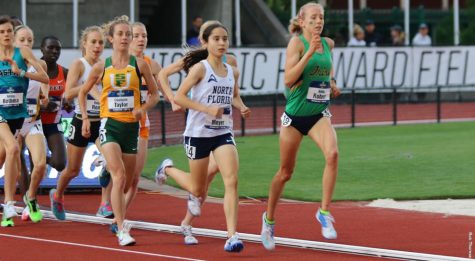 Eden Meyer earned All-American honors after finishing in 15th place at the NCAA Track and Field Championship in Eugene, Ore. on June 9.
Running in the 10,000 meter, the junior became the first Track and Field athlete from UNF to earn All-American honors since 2004.
"By finishing in the Top 16, Eden was named a 2nd team All-American and that is an outstanding accomplishment," said UNF track and field coach Jeff Pigg.
This is Meyer's second All-American recognition and the first in UNF Division I history.
As the fourth Osprey to ever qualify for the championship, Meyer ran her second fast time in her career. She closed out the race with a 33:54.58 final time.
During the beginning of the race Meyer was able to run in front with the other leaders in the race. Meyer was even able to run in second for multiple laps.
"She maintained a very strong pace through the halfway point and then began to tire a bit," said Pigg. "She slipped back to 20th place and then got her second wind and began to fight her way back into the pack."
The winner of the race was a senior from the University of San Francisco, Charlotte Taylor. She finished with a time of 32:38.57.
"[Eden] handled her first NCAA Championship like a veteran," Pigg said. "She ran a very courageous race."
—
For more information or news tips, or if you see an error in this story or have any compliments or concerns, contact [email protected].