Racially disturbing video allegedly features UNF student
UPDATE (9:45 p.m.) – The university has made an official statement, acknowledging they have started looking into the video.
---
A racially disturbing video of who some say is a UNF student is making rounds on social media. The video was posted around the time of the Black Lives Matter "Take a Knee" rally that was held Wednesday at 2:30 p.m. on UNF campus, according to Madisen Smith.
The video shows two males jumping up and down and making monkey sounds with the caption, "What actually went on at the BML rally."
It was uploaded to the "Black Lives Matter" SnapChat story that was created by UNF student Madisen Smith.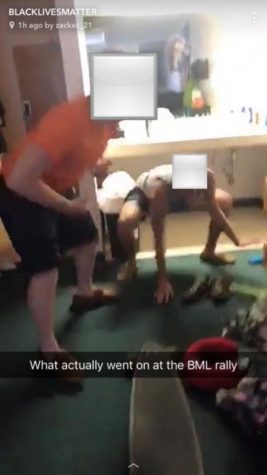 Smith told Spinnaker, "I originally created the story as a way for people attending the rally to post their snaps from their own perspective. When I saw that those guys were mocking those at the rally I was very angry."
The SnapChat account that uploaded the video appears to belong to a UNF student.
Spinnaker has not been able to confirm the source of this video, the timing of this video, or the student status of the account that uploaded the video.
Students for Democratic Society hosted the rally on campus. Monique Williamson, SDS president, said she was saddened by the video and that the club is organizing a call-in day for students to call university president John Delaney to complain about the video.
"I didn't think that UNF students would even post anything like this," Williamson told Spinnaker.
Williamson said in the video the people recorded were using monkey sounds to describe protestors at the BLM rally.
"It makes me feel very sad… and very scared to go [this] school, which I pay a lot of money to attend," Williamson said. "It's unfortunate to go to a school where people still think we are monkeys."
Spinnaker contacted the owner of the Snapchat account for comment about the video but did not receive a response by the time of publication. The university released an official statement Wednesday evening. 
We will continue to follow and update this story.
__
For more information or news tips, or if you see an error in this story or have any compliments or concerns, contact [email protected].