Black Lives Matter Rally: Take a Knee UNF
Video by Jas Chung-Campbell and Andy Castro 
Students of all types flocked to the Green on Oct. 11 for Take a Knee UNF, a rally hosted by the Students for a Democratic Society in support for the Black Lives Matter (BLM) Movement.
The rally was to support police accountability and against police brutality. Kneeling during the national anthem has been a hot button topic, after being popularized by NFL players for the past couple seasons.    
Chants of "Black Lives Matter" erupted from the crowd of supporters, and students of all races took a knee in support of the movement. Some students held signs that said "Support black lives on campus" and "Black lives matter at UNF."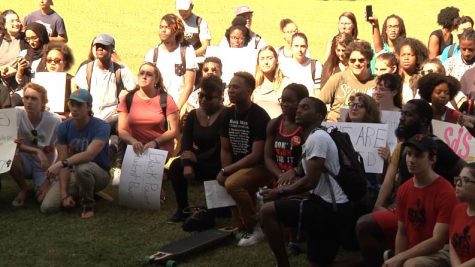 Monique Williamson, part of BLM at UNF, explained why the SDS felt the need to host this rally.
"The goal was to galvanize the student body and basically let them know we're here and we're not going anywhere," said Williamson. There is a mass movement that we are trying to build," Williamson said.
Some students from the opposite side got into a heated debate with an older Army veteran who supported the students' right to protest the anthem. Counter protesters also showed up to the rally to voice their opinions on the matter.
Students wore Trump t-shirts and held signs saying "I stand" and "The Jax Five deserved it!"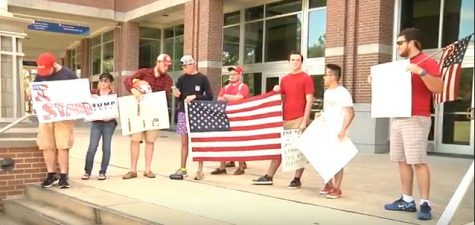 Joe Cronin, business management senior, explained why he decided to counter protest the rally. 
"I heard there was going to be a Black Lives Matter protest and I wanted to show up and show my love for  Donald Trump and America, and be patriotic when everyone else is disrespecting the flag and disrespecting America," Cronin said. "Kneeling during the national anthem is extremely disrespectful to everybody who's died for this country and it's extremely disrespectful to the history of our country."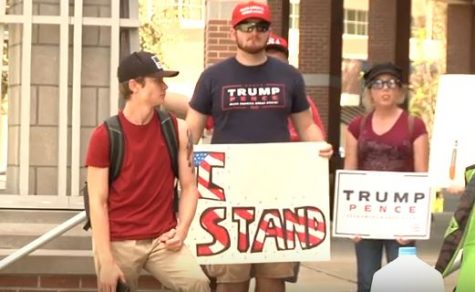 Civil engineering senior Matthew Drysdale said he does not "believe in racial inequality"  and expressed his displeasure at those kneeling during the anthem.
"I'm just out here to protest political correctness and all the garbage that I believe this group out here protesting stands for," said Drysdale.  "I believe that all lives matter, and I believe that all people should be treated equally. But, I do not believe that anyone should be kneeling during the national anthem," he said.
__
For more information or news tips, or if you see an error in this story or have any compliments or concerns, contact [email protected].