Piano Play-Off: Bach to basics
[embedyt] https://www.youtube.com/watch?v=B65FvvYD89E[/embedyt]

Classical piano music students of Erin Bennett, Michael Mastronicola and Gary Smart faced each other at the Piano Play Off Wednesday night. The competition is an annual recital with a different theme for students each year; this year's theme was works by one of the greatest composers of all time: Johann Sebastian Bach.

The week has been deemed Bach Week at Lazzara Hall as performances featuring Bach are occurring throughout the week.

"It's like Shark Week, but nobody dies," Bennett said as the audience chuckled.

There were ten students in total, each playing a different piece from preludes and fugues to suite movements. The students worked on their pieces throughout the semester, and the winner receives a gift card to a family owned sheet music store in Atlanta.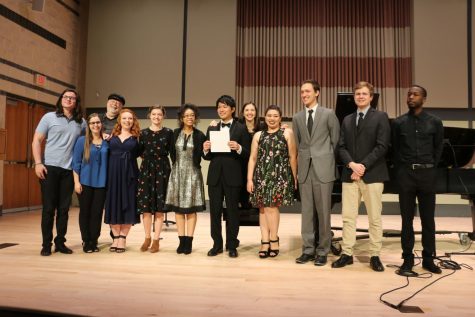 Some of the students like Stephen Putnam added their own flare by giving the audience a smoulder as he rolled the last chord in his piece. Grace Lewis curtsied instead of doing the traditional bow. In the end, only the top three of the ten students placed and won gift cards.
Josh Mills, who was described by one of the performers as one of the most hardworking pianists, placed third. He played the third and fourth movements of the French Suite No. 6 in E Major, BWV 817. While playing, his facial expressions showed the audience he was in his own world created by the suite.
Tsuyoshi Konno received second place by playing the second movement of the Suite from Violin Partita in E major, BWV 1006. His technique was crisp and clear, and you could tell he was enjoying himself as he smirked while he played. The movement was fun and upbeat, and the audience loved it so much he received a second gift card with the audience choice award.  
Nina Eustaquio received first place with Bach's Prelude and Fugue in F-sharp Minor, WTC II. She took her time going into the piece as she collected herself and created a musical atmosphere for the audience. Like Mills, she went into her own world, but also put the audience in a trance as they listened to her take on the composer's work.
"I am overwhelmed and proud," Eustaquio said, still surprised she won first place. "But, I'm happy everyone did well, and that I was able to share the stage with friends."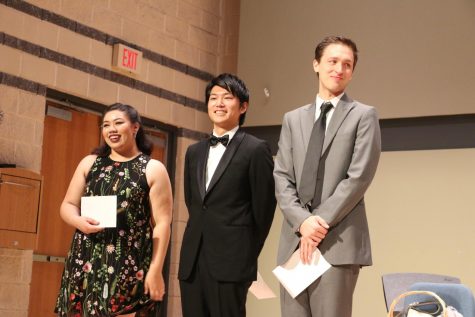 Bach is considered one of the founding fathers of classical music for a reason. His music can be extremely challenging to play, part of the reason being that the piano was being developed during Bach's lifetime. So, his music was originally meant to be played on the harpsichord, which is a relative of the piano that requires a completely different technique to play.
Some of the runs in Bach's pieces require hours of practice to master, and the runs can be only a few measures long. He is also known to have multiple voices occurring simultaneously in a piece. Imagine having anywhere from two to six melodies, where the pianist needs to make sure he differentiates each voice while still keeping the piece together as a whole. It is aggravating practice, but the end result is a magnificent piece that leaves a smile on the pianist's face once it's mastered.
The next piano play-off is in in fall 2018. A theme has not been chosen, but Bennett says she is open for suggestions. Maybe R&B?
__
For more information or news tips, or if you see an error in this story or have any compliments or concerns, contact [email protected].