Safe Ospreys: the new app to keep students safe
Available to download on iPhone or Android, this app will keep Ospreys informed on the latest campus safety updates.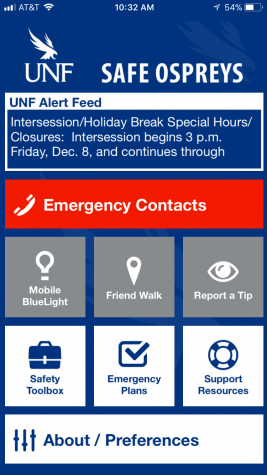 The university wants us all to be safe, so they designed an app to ensure student security.  Safe Ospreys is the app created by campus police to promote and address student safety on campus. The app has seven main features to make sure each student feels safe on campus. Students will get automatic notifications from the UNF Alert Feed through this app. This means students don't have to look at their emails if an emergency happens.
Last September, Spinnaker asked students if they thought an email was a sufficient way to inform students about ongoing threats on campus.
In a Facebook comment on the story, Georgina Bunn said, "I think that for the parents some sort of communication would be good. For students text would probably be best as for this incident most kids didn't know about it nor did they look at their emails till much later."
Several students agreed an email wasn't a reliable way of communicating a threat on campus. However, with this app, students will be notified directly through their phones and have access to other features as well.
The other six features are Mobile BlueLight, Friend Walk, Report a Tip, Safety Toolbox, Emergency Plans and Support Resources.
Mobile BlueLight will act just like the blue emergency phones across campus. If you press the button on the app, the University Police Department (UNFPD) will be dispatched to your exact location.
Friend Walk is a feature that sends your location to a friend or your parent so they can monitor you in real time. You first set up your location and destination. Then, you send an email to your friend, who can click on the link to monitor you as you walk to your destination. If the tracker goes off the designated course, your friend can call UNFPD. This feature is especially useful if you are walking to your dorm or a parking lot late at night alone. To see how the feature works in real time, click here.
The next button, Report a Tip, is exactly what it sounds like. Users can report a tip of anything unusual or any criminal activity to UNFPD.
Safety Toolbox will have three handy tools: a flashlight, a map of your location, and UNF notification history.
In case of an emergency where you don't have access to the internet, the Emergency Plans button will keep users informed of what kind of emergency plan they should use in case of a bomb threat,  campus disturbance, hazardous release, hostile intruders, severe weather or a fire and facility evacuation.
The last feature is Support Resources, which directs users to the Counseling Center or the Women's Center.
The Safe Ospreys app is available to download now. The app is free and can be accessed on iPhone or Android. All students, alumni, faculty, staff and parents can get notifications and use the app's features.
__
For more information or news tips, or if you see an error in this story or have any compliments or concerns, contact [email protected].