The Mini Bar: Dough-not miss this place
It is exceptionally difficult to make a bad-tasting doughnut. It is even more difficult to craft a doughnut that not only exceeds the standards, but dispels your preconceptions of what the dessert can be.
With a restaurant design aesthetic that says "Doughnuts, Volkswagen buses and the color orange are the 3 coolest things in the world," I immediately felt both at ease and like I was just on the edge of being a true Jax Beach hipster at The Mini Bar.
Located at 1300 Beach Blvd., The Mini Bar boasts an impressive menu of 16 doughnut flavors and a create-your-own option, along with an assortment of coffee and beer.
As novel as a beer and donut combination sounds, it was 10:30 a.m. on a Tuesday when I ventured out for a sampling of what The Mini Bar had to offer. Combined with temperatures below 50 degrees Fahrenheit, a hot cup of coffee seemed to meld better with my intentions. The importance of this simple decision would be revealed later.
In all, I tried four doughnut flavors: Maple Bacon, Pop Tart, Birthday Cake and Samoa.
Maple Bacon: Somehow, the copious amounts of bacon crumbles seem to compliment both the maple glaze and the doughnut underneath. I'm hard-pressed to recall a more pleasantly surprising marriage of sweet and savory.
Pop Tart: It was definitely the sweetest of the four flavors I sampled and it truly nails its inspiration, for better or worse. The doughnut properly shines through with an incredible taste, but the sweetness of the strawberry topping and toaster pastry crumbles slightly dampen its potential. For those with a never satiated sweet tooth, you should have no problem downing a multitude of these.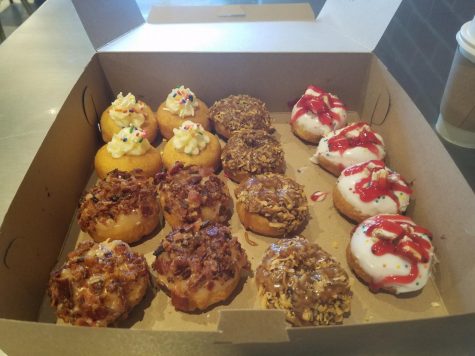 Birthday Cake: This was the simplest in design of the doughnuts I tried. A birthday cake-flavored filling tops what would have been the hole in the doughnut. It is garnished with sprinkles whose inclusion serves as a way to add color to the otherwise bland looking dessert. While delicious, if the filling is taken in concentrated amounts without a simultaneous bite of actual dough, the sweetness can become overbearing.
Samoa: The most reserved in taste but refined in flavor, the Samoa doughnut was less like eating the Girl Scout cookie of the same name and more like submerging in a pool of chocolate, caramel and coconut, with the ability to freeze time until you reward yourself with the next bite. The Samoa complimented with a follow-up sip of my coffee made for the best flavor combination of the venture, and something I'm still craving by the hour. I don't believe I would have the same sentiment had the samoa doughnut been paired with beer.
As much as I would have preferred to taste a sampling of each wildly varied flavor, The Mini Bar limited my order to 4 flavors in a 16 pack. This is an understandable compromise once I overheard talks of an early closure on their opening day due to a two hour wait to order and yet another hour to collect the doughnuts.
While I attribute that wait time more to the unreasonable hype machine the entirety of Jacksonville seems to jump on with any new restaurant opening, I have to say that the 30 minutes from shop entry to my first bite became easier to stomach once those doughnuts fell into mine.
The Mini Bar is a treat for your tastebuds and won't leave your wallet feeling too much lighter as a three-pack of doughnuts is less than $3. While the lines may be a bit ridiculous now, if you're willing to wait, you'll be rewarded with best doughnuts I've had in Jacksonville and possibly North Florida as a whole.
__
For more information or news tips, or if you see an error in this story or have any compliments or concerns, contact [email protected].