North Florida men's basketball drop ASUN road opener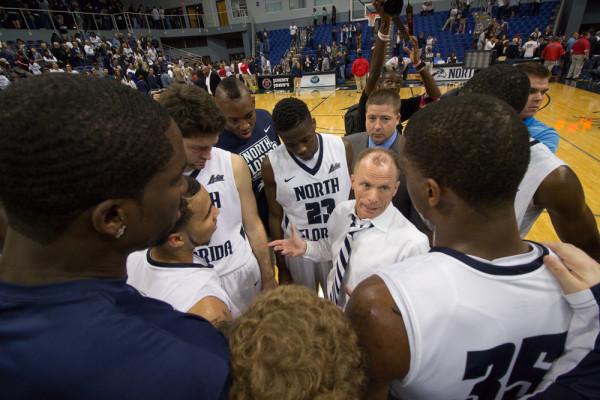 While the calendar may have changed, the troubles on the road remains the same for men's basketball (8-13 overall, 2-2 ASUN).
Unlike previous meetings, the NJIT Highlanders (9-10 overall, 2-2 ASUN) pushed North Florida out its comfort zone, and handed the Birds of Trey a 91-59 on Jan. 18.
The Ospreys struck first with a quick five point lead over the Highlanders in the opening minutes, but wouldn't maintain in control for all.
Highlanders' junior guard Reilly Walsh broke the stalemate for the home team which created a massive run that knocked the Ospreys into the mouth.
As the run continued to grow larger, North Florida was forced to call a timeout midway through the half, as they trailed 28-11.
NJIT's defense held North Florida scoreless for four minutes, with each ticking seconds, the home team piled on more points to separate themselves and provide a scoring cushion.
The Highlanders forced eight North Florida's turnovers compared to only four of their own in the opening half.
With the time winding down in the half, Ivan Gandia-Rosa knocked down a three-pointer and pushed the score to 58-30 at the break.
Out of the locker room, NJIT picked up where they left off with a trio of downtown baskets to pad their lead over the visiting team.
Five minutes into the half, the Ospreys took out their starting line for their reserves, who created a limited spark. With five reserves in the matchup, North Florida forced turnovers and began to see the ball swish in for them as the score began to increase for the squad.
The team rotated personnel on the floor once again mid way through the closing half, but the score deficit weren't fall closer than 30 points for the team.
NJIT finished with 11 three-pointers, while they shot 59 percent from the field over North Florida.  UNF only converted 8 out of 31 attempts from behind the arc and was held to 37 percent from the floor.
Highlanders' Diandre Wilson finished with a game-high 17 points and was perfect from behind the arc with 5 deep balls. Wilson led three other teammates in double digits.
Big men Noah Horchler and Trip Day both ended their nights in double figures performances. Horchler finished with 12 points and 8 rebounds while Day added 10 points and 7 rebounds.
North Florida had 12 miscues compared to NJIT's 8 during this meeting.
The Highlanders outworked the Ospreys in the paint (42-13), off the bench (40-19) and on the glass (44-31).
Men's basketball continue on the road and face USC Upstate, Jan. 20 at 2 p.m.
__
For more information or news tips, or if you see an error in this story or have any compliments or concerns, contact [email protected].