SG: Uniting SG and students, OP Director Bryant's last meeting
On Friday, Jan. 26, Student Government held its second Senate meeting of the semester. The meeting consisted of various committee reports and addressed plans for a safety discussion board after the "traumatic events" that took place last semester.
Elections Commissioner Aesha Soliman appeared before the Senate to address the three parties that will be running in the upcoming election season: The Red Party, Forward Party and a new party, the Howard Party.
Osprey Productions Director, Rachel Bryant, appeared before the Senate for the last time after announcing last week that she was stepping down from her position. She addressed the fact that there are currently three open event coordinator positions in OP, and confirmed that Assistant Director Ashley Dodds will be taking over as the new OP Director.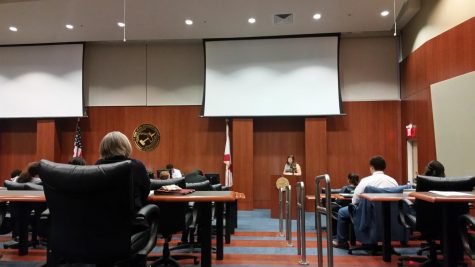 The swearing in of Acting Vice President Gloria Turner will not take place until Turner goes before the Government Oversight Committee on Feb. 2. Senate will decide on confirming Turner on Feb 9. Turner, Student Body President Thomas Beaucham, and several other members of the Senate are currently away at the Multicultural Leadership Summit in Tallahassee.
Senate President Nina Lee filled in to deliver reports on behalf of both Turner and Beaucham.
The report from Turner served as a reminder for the upcoming Open Forum being held Tuesday, Jan. 30 at 7:30 p.m. in the Student Union Ballrooms.
Beaucham's report centered around wanting to "excite" the prospective presidential candidates about UNF during Homecoming. There will be forums held for the final 4 candidates on Feb. 12, 13, 14, and 15 at 4:15 in Student Union auditorium. There will also be a general forum 5:15 p.m. to 6:15 p.m. in the ballrooms.
Lee announced that a discussion board will take place on Monday, Feb. 26 from 7 p.m. to 9 p.m. in the Student Union. The discussion board will be centered around campus safety following last semester's "traumatic events."
According to Lee, it is not an open forum, but is intended to be more of an open discussion between Student Government and the student body in order to make sure that students "feel safe, heard, and listened to." Students are encouraged to come and share their experiences, where they will then brainstorm with SG on what changes can be implemented in order to make safety improvements and make sure students know what resources are available to them.
The Senate Meeting ended with the swearing in of Senator Sonia Vargas as the new Senate Parliamentarian.