Volleyball head coach Kristen Wright plans to bring championships to UNF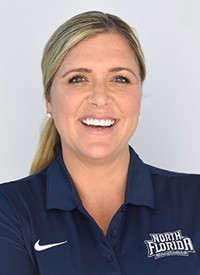 In a recent interview with Spinnaker, Volleyball Head Coach Kristen Wright envisions creating a culture full of growth and championships.
Born and raised in Bakersfield, California, Wright earned a full ride scholarship to play volleyball at the University of San Diego. During her time at San Diego, Wright earned numerous athletic accolades.
According to the UNF Athletic Department, Wright earned AVCA All-American and All-Region Honors as well as earning three WCC All-Conference awards. Wright remained in California as a head coach after graduation.
Wright comes to UNF following a four-year stint at Mira Costa College in Oceanside, California where she coach Indoor and Beach Volleyball.
"My family and I are thrilled to join the UNF family. I am eager to work with our staff and student-athletes as we build a championship program in indoor and beach," Wright said. "I am well prepared and have outstanding experience in running a program that has both indoor and beach and our goal is to be the best mid-major school in the country that sponsors both."
Wright boasted an impressive resume with multiple championships as a player and a coach that spanned as far back as high school and continued through college.
During her tenure at Mira Costa, some of Wright's accomplishments with the Spartans included a strong performance for indoor volleyball with an 80-28 record while producing one All-American, two All-State, three All-Region, two Conference Players of the Year and a Beach Duo of the Year.
Wright was selected and inducted into the San Diego Breitbard Coaching Hall of Fame in 2016.
"Being a mid-major school, my goal is to create a championship atmosphere that also takes care of the well-being of people and I believe philosophically, you can do both," Wright said. "So they're some programs around the country that are focused on winning and winning alone and that's it and they're some coaching styles and programs that create a great environment."
Wright discussed her vision and goals for Indoor and Beach Volleyball after recently taking the coaching job. Wright was extremely excited when talking about the expectations she has for the Ospreys. She wants to understand the history of North Florida and plans to build upon it.
"Realistically, the beach side, we have a position and a draw that being a beach school and its beach volleyball with my vision to be a national championship contender," Wright said. "On the indoor side, a realistic goal within my first years of coaching would be to obviously win, the program has never won a championship before so that's the first goal and then to build off of that would be to be recognized nationally and get into the NCAA Tournament."
The Ospreys won the ASUN three of the last six years for beach volleyball (2012,2013 & 2016), but has struggled to get back to winning form since then. Wright wants to help the Ospreys not only compete but win the ASUN Conference and gain national attention while competing in the NCAA Tournament.
"Our measurable goals would be we want to win conference in the ASUN in both sports, we really believe that we can succeed in the ASUN in both sports and also be a national contender in both sports," Wright said.
Although Wright was very successful in her tenure as a Head Coach for Indoor and Beach Volleyball, it has not been easy to coach between the two sports.
"Coaching two sports is no easy task, we value both and for the past four years I've coached and managed both and been really successful at it," she said.
Wright enters her 15th season as a coach, with this being the first for North Florida. She described the process that it takes to create a winning culture.
"Your system has to be pretty on point to be in the upper echelon of the country and to win the conference championship,"Wright said. "So breaking that down, we're very process-focused in both sports and not outcome-focused and very big believers in the byproduct of training and process of the how we want to do things. Eventually, you won't have to think about the outcome, it's just going to happen".
Not only does Wright bring a championship pedigree and winning culture to the Ospreys but she is also a certified mental trainer. Not only could being a mental trainer helps ease the pressure and troubles that athletes could face on and off the court, but also boost morale to the club.
"That's one of the biggest things I see here initially taking over the program as the biggest area of growth," said Wright. "Our mentality and I believe that once we get a nucleus of these girls to buy in and we start recruiting and the girls are there keeping that level of training, intensity, expectation. You're gonna see a fast move in both of these programs and excitement in the athletic department with what we're doing."
Wright will coach her first game for North Florida in the season opener against University of Tampa in the Webber International Tournament on Feb. 24 at 7 p.m.
—
For more information or news tips, or if you see an error in this story or have any compliments or concerns, contact [email protected].