Student tailgating at UNF suspended until 2018-2019 school year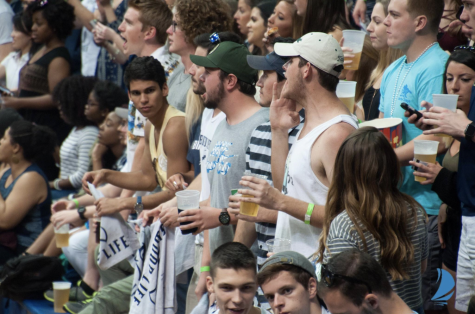 Lot 18 plans in your future? Not anymore. According to an email sent from the University, student tailgating is suspended for the remainder of the semester.
In a press conference, Director of Athletics Lee Moon said the suspension will allow for more time for the University to review UNF's drug and alcohol policies.
"It was a university decision including athletics," Moon said. "There is some issues going on that had to be addressed that were very critical, and things that were going on that needed to be straightened out."
Moon said the athletics department wasn't going to continue to support the direction tailgating has gone until rules can be enforced, specifically in relation to underage drinking.
"All we did was say we weren't going to support it and put money into it to make it work if they wouldn't want to do it the way it is supposed to [be done]," Moon said.
The guidelines for tailgating on campus as outlined by the Athletics website says "individuals are responsible for compliance with all local and state laws governing alcohol consumption" and that "individuals attending events at UNF are expected to conduct themselves in a manner that is respectful of the nature and character of the University."
Student attendance at basketball games has gone down in recent semesters, according to Moon. He said the majority of tailgaters remain outside of the game to continue tailgating.
"The objective of tailgating is to promote attendance and popularity of UNF athletic events and enhance UNF team spirit," according to the description of SWOOP-gating on Athletic's website.
Head Coach Matthew Driscoll said he is planning to meet with Moon to further discuss actions on the suspension due to the last two home games being set in Homecoming Week.
"It's almost a slap in the face, like we did something wrong, or the guys did something wrong," Driscoll said on the lack of student attendance.
In a press conference, Driscoll continued saying he didn't know about the suspension until he received a tweet from someone.
Noah Horchler, men's basketball forward, described in a press conference how the students presence helps bring energy to the Arena.
"Yeah it seems like whenever the tailgates get cancelled it seems like they never come," Horchler said.
As of right now, tailgating can resume in the 2018-2019 school year. The university has not yet set a date for reviewing drug and alcohol policies. Spinnaker will update with more information as soon as it becomes available.
—
For more information or news tips, or if you see an error in this story or have any compliments or concerns, contact [email protected].