Presidential Search Committee Narrows it Down to Five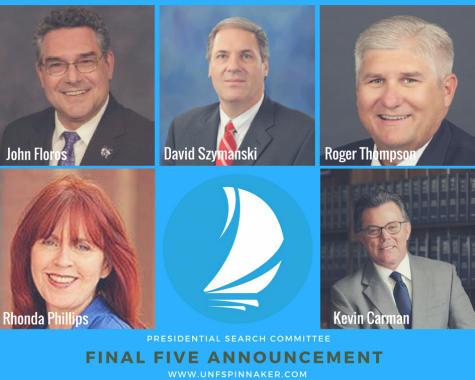 After two days of interviews and discussion, the Presidential Search Committee made a decision on the five finalists: David Szymanski, Kevin Carman, Rhonda Phillips, John Floros, and Roger Thompson.

Following the final interview with candidate Roger Thompson of the University of Oregon, the Presidential Search Committee opened the floor to public comment on Wednesday, Feb. 7 at 5:15 p.m.

Professors, faculty members, and prominent figures at UNF shared their thoughts primarily on the six candidates interviewed today.

[embedyt] https://www.youtube.com/watch?v=89CVrZDkiXA[/embedyt]

Kevin Carman, the first candidate interviewed that morning, was viewed favorably by a general consensus. Karen Patterson found Carman to be well-qualified on paper and to have a strong academic profile. Members who were present liked how he spoke from experience as a provost and touched on shared governance. Carman alluded to his work on diversity, inclusion and environmental stewardship, which members appreciated. Carman answered questions specifically with a breadth of knowledge and experience, and demonstrated professionalism and straightforwardness.

The committee found Irma Becerra to be student and program-focused as she demonstrated a clear focus on student success. Becerra's engineering background, said the committee, appeared to help her understand and focus on metrics of how to meet institutional goals. Becerra has worked in two Florida institutions, so it is evident she has a number of contacts and experience. Judging by her experience, Becerra worked hard to support financially needy students and providing well-thought out programs for them. A statement echoed by Becerra that touched many members was, "Experiences are a value chain and we all need to be a part of [them]."

Yi Li was described as extremely talented and knowledgeable as Li presented adequate information, challenges and activities. It was observed that Li answered questions as though he was giving a talk, but nonetheless was fascinating. Some members present were unsure if Li was the right fit. However, it was remarked that Li did an exceptional job of hitting every part of multi-point questions thoughtfully. Bella Genta stated she liked how Li viewed students as more than people being administered to as he referred to them as "co-creators."

Kelli Brown was observed to be well-prepared and engaging. Her interim position at Valdosta State was a major topic of discussion; though she only held the position for six months, Brown accomplished quite a lot in such little time. The committee thought Brown adequately focused on progression from retention and graduation for students.  Members in attendance liked her background story as Brown understands what students endure because of her education and experience. Brown appears to be unafraid of challenges.

The committee felt extremely confident about Rhonda Phillips, especially with her experiences at Purdue and Arizona State University. Phillips' answers to questions about size, scope and complexity of campuses were favorably viewed. The majority liked her comments about economic development. Phillips was perceived as a teacher who shows great leadership skills, especially with her thoughtful answers and go-getter attitude. Kevin Hyde was "favorably impressed" by her experiences and attitude.

Roger Thompson, the final candidate interviewed, was described to be very charismatic by multiple members. Thompson's interview was conducted via video, and Wendy Link remarked how well he conveyed sincerity and enthusiasm, which is hard to do over a screen for some. Thompson provided thoughtful answers and passionate about his work. Thompson also addressed where he had less experience, particularly the academic aspect, and members appreciated this acknowledgment. Sharon Wamble-King noted how he spoke extensively about leadership and team-building, and she was impressed by his work in diversity and inclusion.

The group also talked about two of yesterday's strong candidates, David Syzmanski and John Floros.

Dean and Professor at the University of Cincinnati David Szymanski showed a lot of interest in the success and well-being of students. Making college more accessible, creating a social support system, and getting students engaged in the university are priorities for him.

To help students, Szymanski plans to brand them as leaders that businesses can trust, and he hopes to make all students honors students to prepare them for their future. At the University of Cincinnati, Szymanski demonstrated his dedication to students by increasing student retention and graduation rates by 10 percent.

He said he has experience growing university programs, working with unions, and shaping and improving companies.

Szymanski also said he can "bring the community into the university, and bring the university into the community."

He believes some goals of a university president are having an understanding of athletics, breaking down and solving problems, and bring students of all majors closer together in the university.

"At the end of the day, it is always about doing the right thing," said Szymanski. He wants to make a difference by creating opportunities for students, staff, and the university.

Dean, Professor and Director at Kansas State University John Floros is a leader, scientist, and a researcher with experience developing partnerships. He also has experience in fundraising and working with committees.

 One of Floros' goals is to keep steady communication with the Board of Trustees. Floros has experience communicating and working with legislators, city councils, and government representatives, showing great communication skills and a willingness to create relationships.

 Increasing diversity across the university is also a priority for Floros.

 "It's beyond just race. It's beyond just sex. It's a lot of different things that we have to look at. Universities need to be prepared for all of that," Flores said.

 Floros also said, "This is a great little university that has tremendous promise."

The group immediately agreed to elevate David Szymanski, Kevin Carman, and Rhonda Phillips as final candidates. Some deliberation continued about John Floros, Charles Robinson, Yi Li, Kelli Brown, and Roger Thompson before a decision was made. 

The faculty association is meeting Thursday, Feb. 8 to further discuss the final five candidates.

—

For more information or news tips, or if you see an error in this story or have any compliments or concerns, contact [email protected].