Last UNF presidential candidate speaks to students
On Feb. 16, the last student open forum took place. Presidential candidate, David Szymanski, the Dean and professor of the University of Cincinnati spoke about why he wants to be a  part of UNF.
Szymanski said UNF is an exciting place to be. One of the reasons he wants to be part of UNF is because he wants to expand partnership with the city and bring new people on board.
"It just feels good… you wish you had a better way to articulate," Szymanski said. "It just feels like a place that you can wrap your arms around and lead people in the right direction. If I do my job really well, I create opportunities for other people. I create opportunities for students to be phenomenal. I create opportunities for… staff to grow."
A senior student asked Szymanski what will he do in a situation where Nazis come to speak on campus. He said that the most important thing to him is the students and faculty safety and addressing the issue immediately.
The student also asked him what would he do if a racist video goes viral like it did last year on campus.
"It really is about being responsive… You think about who you are and what you stand for. You try to connect with students, you try to be there for the students who are upset," Szymanski said.
He thinks it's important to let people outside of UNF know racism and discrimination isn't part of UNF. Everyone is welcome to attend our university.
He had two important perspectives he wanted to point out.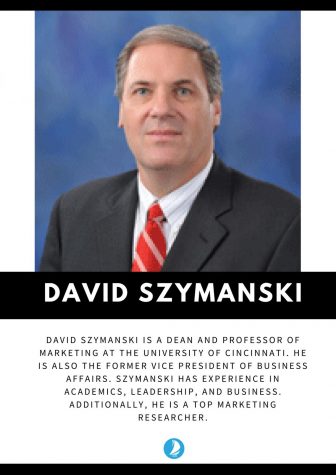 His first perspective was his experience in academic research, which allows him to understand the academic experience and what it takes to be a top researcher along with understanding students perspective about being prepared.
His second perspective involved the importance of athletics and his past experience being the director for leading companies making him knowledgeable in administrative positions.
"I also serve on different committees… The Faculty Athletic Rep, which looks at the student interest  side  of the Academic Athletes," Szymanski  said."It gives me a rich perspective of what it means to be an academic, what it means to be an administrator, what it means to be a leader of a complex large corporation and what it also means to think about athletics."
Szymanski thinks UNF will be the next "breakout" institution on a national level.  He recognized UNF being a great foundation developed by President Delaney who was dedicated to the institution. He said he was excited about  UNF's great faculty and passionate students.
"We know we are good and we want other people to know we are good. We want students to come here and be the institution of choice. We want faculty to come here and be the faculty of choice."
Szymanski said he enjoys the opportunity to make a difference and begin working with people. He looks at what UNF has to offer and to him, it is a poise for greatness.
Szymanski talks about his plan to communicate with everyone on campus because he wants to receive feedback. He wants to talk to different groups and organizations on campus. He wants to schedule breakfasts and lunches with undergraduate students, graduate students, staff, assistant professors, professors that have been working at UNF for 10 years, and underrepresented students. He wants to know what can he do and how he can make UNF a better place because he likes to build communicative bridges.
Regarding cultural diversity, Szymanski said it is extremely important. Diversity and inclusion is front and center for him. Szymanski created a program to track underrepresented students. The programs help students be successful.
He also answered a question about his top two priorities. He said his first priority was experiential learning which involves offering internship and helping students gain experience. Making students more employable and helping them grow as individuals. His second priority was to reach out to students.
A small handful of students attended the open forum. Therefore, a student asked what message did Szymanski received when only a few students showed up to the open forum.
"As part of a leader it is important to change and facilitate things and make it better than it was yesterday," Szymanski said. "What can we do? What can a leader do? Thinking about a solution. Do something new, different and creative."
There will be a Board of Trustees meeting on Feb. 20 to go over public comments, review feedback, and then deliberate to select the next university president.
—
For more information or news tips, or if you see an error in this story or have any compliments or concerns, contact [email protected].