UNF set to select next president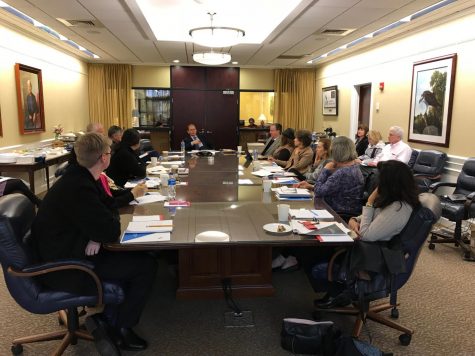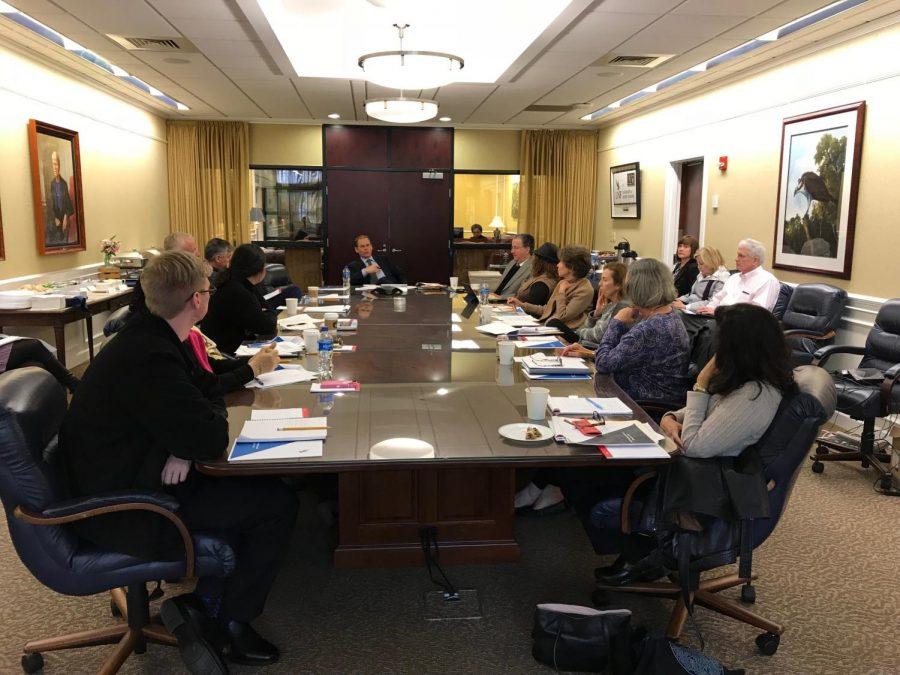 Previously published in The Florida Times Union
The four remaining candidates to succeed John Delaney as University of North Florida president made visits to the Jacksonville campus last week in advance of a vote by the trustees who will choose from among them.
That vote, which would need the approval of the Florida Board of Governors, could come as early as Tuesday. Delaney is set to retire May 31.
A search committee selected the finalists earlier this month after two days of interviews, paring an initial list of 12 semi-finalists. A fifth finalist withdrew from consideration.
That left Kevin Carman, the University of Nevada in Reno's executive vice president and provost; John Floros, the dean of Kansas State University's college of agriculture and director of K-State Research and Extension; Rhonda Phillips, first dean of Purdue University's honors college; and David M. Szymanski, dean of the college of business at the University of Cincinnati.
Each was made available to students and staff last week at "open forum" events held on campus.
COMMUNITY, IDENTITY
Carman talked about his readiness for the job, saying," Part of my experience that does prepare me well for the presidency is that I had oversight of the entire University [of Nevada]."
Asked what he see as the two top priorities UNF should tackle, he said increasing student retention and graduation rates, as well as determining the strongest university programs to decide if the school should move forward as a research university.
To increase revenue, Carman suggested attracting international students and students from out of state. He cautioned those efforts can't harm in-state students.
"What I've learned is that you can't be passive about these issues. You really have to be actively engaged and truly care about diversifying your faculty and student body," said Carman.
One of the things that most impresses Carman about UNF is its focus on community involvement. Such involvement causes the community to better value the university. He said athletics is important in increasing community involvement.
In a closing statement, Carman said he wants to enrich students' experience and "have a sense of community and identity."
"I think that [UNF] has enormous potential to have an extraordinary physical setting that inspires a type of learning and community that most institutions just don't have," said Carman.
IMPROVE METRICS
A top priority for Floros is improving UNF's metrics.
"If we don't do well in terms of metrics, we're not going to get the funds and the resources we need to improve as an institution," he said.
Floros also would work to gauge the morale of students and staff through the use of recurring conversations. Floros wants to ask students what they want to better serve them, giving students a role to play in campus activities and involvement.
"We need a diverse workforce and a diverse student body, and one way to do that is to really start talking about it more openly," said Floros.
Regarding campus white supremacist groups, Floros said commitment to diversity and inclusion is necessary in unifying as a university and combating these "barbaric acts."
He added, "[UNF] needs to be the driver of economic growth in the city, the region, and maybe even beyond. The driver of cultural change in the region and beyond and that we need to address challenges that region has. We need to find a way to help Jacksonville, Northeast Florida and maybe the state and beyond," Floros said. "I would like UNF to be known as the most impactful regional university there is."
FUNDING, VISION
Phillips said one of the reasons she is interested in UNF is its "commitment to excellence and teaching." She said she admires the campus and community environment, and she sees a lot of potential in a university that has a strong foundation on which to to build.
Asked for her the two top priorities, she said the first should be getting connected for additional funding and support, which will help UNF move forward and benefit the academic mission.
The second is thinking of the university's vision, deciding the next steps, and taking action on them.
Phillips' suggestion for increasing revenue is to work with the community and foundation partners. She suggest a possible increase in enrollment, looking at more external funding, and looking at the efficiency of the university's revenue system.
To recruit students locally, Phillips would look to upcoming high school students, working with counselors and recruiters to ensure that diversity is properly represented in enrollment.
Phillips commended the 30-percent diversity in the UNF student body, which she said she wants to continue and expand.
"It's not something that we can hope happens," said Phillips. "It has to be explicit, and it has to be a direct effort to ensure it happens."
COMMUNITY AND COMMUNICATION
Szymanski said expanding community partnerships is one aspect of being involved at UNF that he would look forward to.
"It just feels like a place that you can wrap your arms around and lead people in the right direction," Szymanski said. "If I do my job really well, I create opportunities for other people. I create opportunities for students to be phenomenal. I create opportunities for … staff to grow."
Regarding experience, Szymanski said he has knowledge in the area of academic research, giving him an understanding of the necessary steps to being a top researcher. He also believes his academic experience helps him understand student perspectives.
With families, students, and other universities looking to UNF during this time of change, Szymanski said, "We know we are good and we want other people to know we are good. We want students to come here and be the institution of choice. We want faculty to come here and be the faculty of choice."
Szymanski finds communication with the UNF population to be an important task that the school president should assume. He wants to sit down with people from every part of the university to determine how he can improve it and best serve them.
To ensure a more diverse environment, Szymanski said he created a program that determined which students were underrepresented. Helping students gain the skills they need to be employed is another Szymanski priority.
—
For more information or news tips, or if you see an error in this story or have any compliments or concerns, contact [email protected].