Women's basketball trampled USC Upstate
Video by Jas Chung
The women's basketball team (12-16 overall,5-8 ASUN) controlled the game on Feb. 19 against USC Upstate(10-18 overall, 5-8 ASUN), and crushed them 79-61 at the UNF Arena.
The Ospreys kept the first quarter defensively strong limiting the Spartans' amount of field goals to three. Tesh Hanson controlled the first quarter, and scored eight points. North Florida finished the quarter with double the amount of points 18-9.
The second quarter carried over the energy for UNF with 13 points off of turnovers. The Ospreys only let the Spartans score seven points, making it another single digit quarter for the Spartans. North Florida went into halftime up 43-16.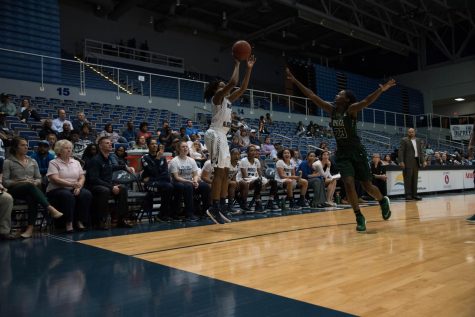 After the break, the Spartans got their game plan together, and went bucket for bucket with the Ospreys. USC Upstate attacked the paint while North Florida stuck with the perimeter and midranges. The quarter finished 63-40.
The Ospreys were relaxed in the final quarter, and allowed the Spartans to score 21 points. However, the Ospreys were so ahead that the 21 points didn't matter, and they won the game.
Throughout the game, North Florida had a strong defensive presence with 15 steals and 29 points off of turnovers. Head Coach Darrick Gibbs touched on how the team's offense and defense led to their victory.  
"We played well on both ends of the floor, and anytime you hold a team to nine and seven in the two quarters respectively [that's] getting off to a good start offensive[ly]," Gibbs said. "I know when we are locked in and ready to roll is when we defense, when we are playing good defense. And, that actually carried over to our offense."
Tiffany Tolbert had her season-high of 4 steals.and finished with 13 points. Maiya Rumph had a team-high 15 points. 
The women's basketball team will face their cross-town rival Jacksonville University Dolphins on Feb.24 at 2:30pm to close out the regular season.
Photo Gallery By Lili Weinstein