JU Dolphins sweep series over UNF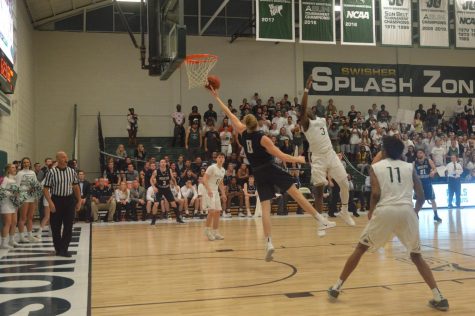 In a cross-town rivalry between UNF(13-18 overall, 7-7 ASUN)  and JU (14-17 overall, 8-6 ASUN) labeled The River City Rumble, part two was similar to the first episode. For the Ospreys it turned into the River City Stumble losing 86-81 Thursday night.
What started out as a game that looked like the Ospreys were going to control, faded away down the stretch. UNF came out hitting 50 percent of the teams shots with 11 minutes remaining in the first half. The momentum carried on going into the half with UNF leading JU 41-34.
It was in large part that North Florida had this lead with great play from Garrett Sams and Ivan Gandia-Rosa who both scored 11 points at the half.
The second half of this game was any sports fan dream. The game quickly turned when the Dolphins came out of the half making many of their shots were able to tie the game with 11:47 left in the game. However, the game started to see both teams trading baskets left and right and before you knew it the game was still in the Dolphins' grasp as they took the lead 66-64 with 7:14 remaining in the half.
As for the Ospreys, what made the game start to get out of hand was the play of Dolphin senior guard Devin Harris. He posted a triple-double tonight against the Ospreys. Also, a turning point of the momentum for both teams was when Harris connected on an Ally-Oop to Jalyn Hinton and helped the crowd get on their feet and keep a loud pulse as the game was coming down to the finish.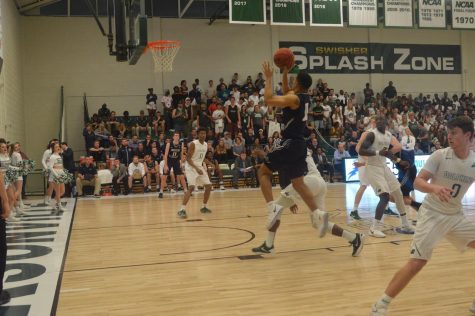 Sams finished as the Ospreys leading scorer with 19 points while Gandia-Rosa and Noah Horchler both ended the night with 17. Horchler also became the single season rebounding leader with 270 to be at the top in North Florida's men's basketball history.
As what's next for North Florida will be a survive and advance mentality as they are locked in as the fifth seed in the ASUN playoffs. The Ospreys will have to play every game on the road during the playoffs.
North Florida travel to New Jersey to play NJIT on Feb.26 at 7:30 p.m. for the first round of the ASUN Championship.  The regular season series was spilt with the host team claiming the victory.
—
For more information or news tips, or if you see an error in this story or have any compliments or concerns, contact [email protected].