What will it take to make it back to the ASUN Conference Championship game?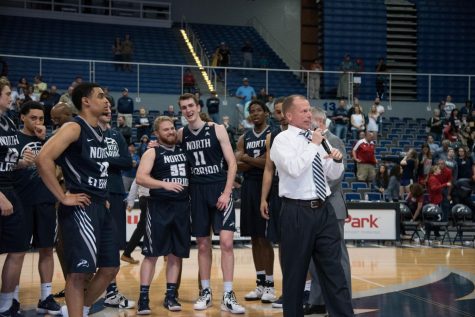 So, it's that time of the season again: ASUN Basketball Playoffs are back in full swing. The Ospreys are poised to make a deep run in the playoffs, but what will it take to get them back there?
The last time we saw they Birds of Trey, they lost to ASUN rival FGCU, 77-61 in a high stakes match up with the NCAA Championship and an NCAA bid to the national tournament on the line. The bitter loss signaled the end of an era for an outstanding seniors class featuring all-time leading scorer Dallas Moore, high-flying Chris Davenport and sharpshooter Aaron Bodager.  
Just a year later, the squad have new faces for the Birds of Trey that have taken the mantle. Aside from ASUN reigning Freshman of the Year Wajid Aminu and Seniors Osbourn Blount, Chase Driscoll returning to North Florida, they would have new company just one year later.  
Ivan Gandia-Rosa, JT Escobar, Trip Day, Noah Horchler, Brian Coffey Jr, Emmanuel Lambright and Ryan Burkhardt will be the next generation of Ospreys.
With the first season in the books, the road to the championship final begins tonight. North Florida enter tonight's match up as the fifth seed against NJIT. In their earlier match, North Florida was thumped on the road, 91-59. In order to advance they will need to lock in and dial up their signature three ball in order to quell the critics. If that happens, the game of scenarios will come into play.
Scenario one: If North Florida wins and face FGCU in the ASUN Semifinals, the Ospreys will be in for the fight of their lives. It will be a true David versus Goliath match up with a very young Osprey team against a larger, more experienced FGCU team.  In both match ups this season, FGCU was able to beat the Birds of Trey twice.
Scenario two: In the possibility that occurs, North Florida will have a much easier match up combined with home court advantage being the higher seed. Winner will advance to the Conference Championship as they replicated, just one year ago.
The winner of tonight's game will face the winner of the number one seed FGCU match up against number eight seed USC Upstate in the ASUN Semifinals. If you believe in miracles, then you will be one of many who will have fingers crossed that USC Upstate pulls a huge upset and beat FGCU on the road.
At the end of the day, scenarios can always change, but the scoreboard doesn't. It all boils down to whether the Ospreys can win on the road and show everyone they are to be reckoned with in the future.
—
For more information or news tips, or if you see an error in this story or have any compliments or concerns, contact [email protected].