Potential contract decided for UNF President-elect David Szymanski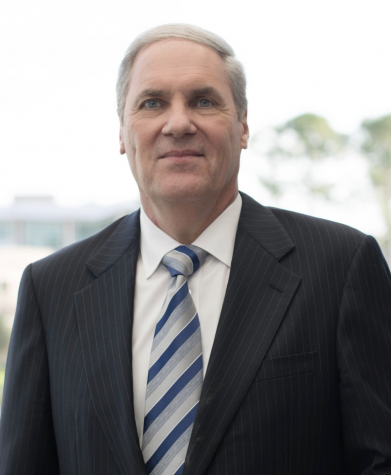 Correction 03/09 @ 11:20 a.m.: The contract is for four-years, not five.We take corrections seriously and apologize for this error.
The UNF Board of Trustees met on March 6 to discuss President-elect David Szymanski's contract. The BOT's Chair, Kevin Hyde, negotiated the contract with Szymanski.
Szymanski's contract will have him be UNF's president for four years. After three years, Szymanski and the BOT can negotiate extending the contract.
Szymanski's base salary will be $405,000. Current UNF President John Delaney is paid $370,000, not including bonuses. Currently, Szymanski makes $548,764 as Dean of the Carl H. Linder College of Business.
Raises to the salary can be discussed after the second year. Deferred compensation within the contract is set at 20 percent each year and any incentive pay will be set by the BOT.
Szymanski will be getting $36,000 for moving expenses and $45,000 as a housing allowance. He will also get life insurance premium of $7,800 per year.
Szymanski will be teaching in the Coggin College of Business as a tenure professor. He will be teaching specifically in marketing classes. It agreed that Szymanski will not a sabbatical, a period of paid leave granted to a professor for study or travel.
The contract also states that Szymanski and the BOT will outline goals and performance measures no later than Sep. 30.
The Board of Governors will be meeting at UNF on March 29 to discuss the appointment of David Szymanski as the next UNF president. If approved, Szymanski will start on June 1.
__
For more information or news tips, or if you see an error in this story or have any compliments or concerns, contact [email protected].