Northeast and Central Florida under tornado watch
Staying in Jacksonville and have plans on going out today? You may want to cancel and instead stay inside as wind advisory and tornado watches have been issued for Duval County.
A tornado watch is not a guarantee for tornadoes to appear, but it is possible. Residents living in Northeast to Central Florida should start planning in case a tornado does occur. The tornado watch is currently in effect until 7 p.m. tonight.
A wind advisory is when there are winds of 25 to 39 miles per hour or frequent gusts of 30 to 39 miles per hour are to be expected, according to the National Weather Service. Winds will be strong and difficult, so residents should not plan to drive anywhere during the advisory. There may be damage to power lines, trees, and property. The advisory will go into effect at noon and will end at 8 p.m.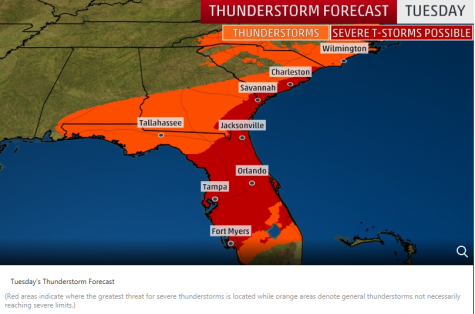 Jacksonville residents shouldn't be the only ones getting ready as Tampa, Orlando, Savannah, Charleston, and Fort Myers will all be affected by thunderstorms, according to the Weather Channel. On Tuesday the storms caused serious damage in Alabama and Georgia.