UNF students take charge to help restore Lake Jesup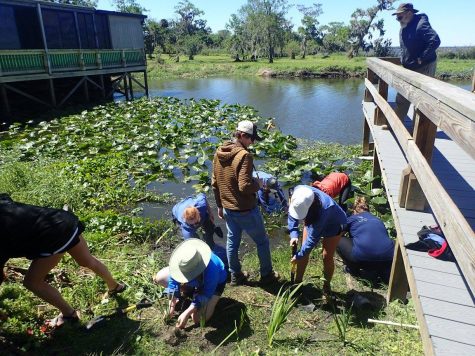 UNF students and staff members participated in a restoration project on the shores of Lake Jesup on March 21.
They joined a group of scientists belonging to a volunteer program called Seminole Education Restoration and Volunteer (SERV), and together they replenished the area with over 1,000 beneficial plants.
One of the staff members leading the project was Coordinator of the UNF Environmental Center James Taylor, who is also the teacher of St. Johns River Experience. Members from the class take part in the restoration projects, but other students can also participate.
According to Taylor, these native shoreline plants would absorb excess nutrients from the water and help prevent erosion. Taylor explained that as the output of fertilizer and waste continues, the amount of nutrients in the water rises, leading to algae blooms. These algae blooms can deprive the water of oxygen, killing plants and animals.
The plants used in this project include 500 Pickerelweed, 500 duck potato, 100 golden canna, 50 iris, and 50 fire flags, and they were planted on the private property of Black Hammock Airboat Rides, a business that relies on a healthy body of water.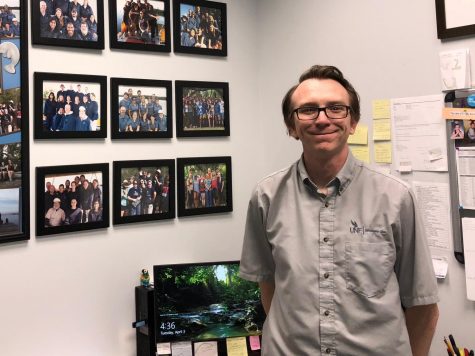 The groups also removed eight bags of invasive water hyacinth, adding up to roughly 1.2 cubic yards.
"The hyacinth doesn't belong here in FL and tends to crowd out other plants," said Taylor
He explained the concept of a watershed, an area surrounding waterways that has an impact on the water itself. The watershed can stretch many miles into land.
"It's not just about what you can see on the river, but what happens in these neighborhoods, creeks, and streams, as well as all the surrounding land," said Taylor.
Senior and coastal biology major Brandie Brooks is in the St. Johns River Experience class and works in the office at the environmental center as a project leader for the environmental leadership program.
"The Lake Jesup project was awesome," Brooks said. "I think the coolest part about it was seeing everyone get so excited and into it. After we were done, everyone wanted to do more."
Brooks has been interesting in plants and the environment for years and finds serving the community rewarding and encourages other students to try it out.
"It was fun, and you get to do a good thing," she said. "There's always opportunities to get involved."
Taylor also pointed out that a benefit in participating in the project is the experience and connections you gain.
"At the end of the day everyone who graduates gets a diploma. It's the things outside of class that really matters."
If you want to get involved or learn more about restoration and protecting the environment, you can visit the Environmental Center or join the St. Johns River Experience class next semester.
—
For more information or news tips, or if you see an error in this story or have any compliments or concerns, contact [email protected].