North Florida Softball falls short against UCF
DeAndre Pearson
April 12, 2018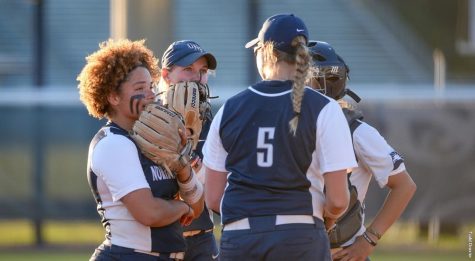 On a mild-weathered evening, North Florida (21-24 Overall, 1-8 ASUN) couldn't pull of a late comeback at home against the University of Central Florida Knights (28-15 Overall, 6-3 American ) on Wednesday.
In the opening inning, the Ospreys were able to draw first blood in the bottom of the first. With the bases loaded, UNF junior standout Navia Penrod scored, which followed a pop-up hit from fellow junior Tiffany Lower. This put the Ospreys up over a young Knights' squad. From that point, both teams struggled to establish a rhythm. UCF didn't respond until the fifth inning when they unleashed a series of hits and capitalized off of costly errors.  
Freshman Denali Schappacher was able to keep UCF's momentum going following a hit down the middle to bring two runners home. The fireworks continued for the Knights as Cassidy Brewer followed up with another hit and brought home Schappacher.
UNF could not stop the bleeding as they watched another run for UCF unfold at the hands of sophomore Kyra Klarkowski, who capped off the fifth inning with another base hit to bring home another runner and increase the lead by three. Just like that, UNF was faced with a mountainous task of erasing a 4-1 lead after scoring first.
The game got interesting after UCF added another run late in the game, increasing the score to 5-1. With the odds stacked against them, North Florida was able to getting runners on base following hits from Rindy Bryant and Alex Arciola. Although North Florida's biggest hitting threat Penrod was retired from a hit to the left, the Ospreys still brought runners home following a hit from Kayla McGory and Dominica Cocuzza.
With UNF being the aggressor, the score was now 5-3, and UCF began to look shaky. This prompted UCF Head Coach Renee Luers-Gillispie to have a word with her team and settle them down. The Knights snapped out of their skid and ended the comeback campaign after catching a fly ball to third, ending the game.
North Florida will remain at home and prepare for ASUN action in a double-header against the visiting Lipscomb Bison (26-10 Overall, 6-3 ASUN)  April 14, beginning at 1 p.m.
—
For more information or news tips, or if you see an error in this story or have any compliments or concerns, contact [email protected]