UNF computer science students win big at One Spark
In an increasingly technological world, connecting with other people has never been easier. However, despite the vast jungle of social media apps and other methods of connection, five UNF students have managed to put together a unique website that has its own way of connecting people.
Salim Zubair, Camron Conway, Sotiri Kolvani, Michael Vasquez, and Adrian Santos are seniors and computer science majors, and the website they created is called SoSympo.
"It all began as a school project," said Kolvani, "but out of nowhere it became a big thing, and people really like it."
The website takes connection a step further, simultaneously building a profile that other people, groups, and businesses can use to see one's involvement in past events.
"User profiles will have links to all the projects someone has ever presented at any event across the nation," said Conway.
The group explained that it's similar to LinkedIn, but instead of focusing solely on the individual, it is project and event focused. They said there is this existing problem that people go to an event, and when they leave they don't know how to connect to the people or groups they met.
"We want to bridge that connection even after the event has ended," said Zubair.
Santos said, "One lost connection is one lost client."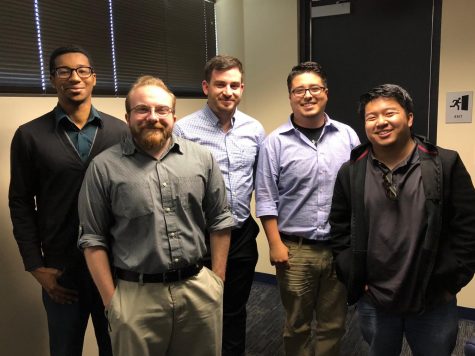 On April 6 and 7, the group participated in One Spark, an event where groups and businesses show off their ideas and projects, for which individuals can vote. The group with the highest number of votes is acknowledged and given a cash prize.
"We competed in the tech genre at One Spark, and we won," said Kolvani. "We beat our competitors who were students from MIT."
The group came in first place in the tech genre with 86 votes. The second place winners in the same genre won with 54 votes.
"I feel like the reason we won is because we had better organization and better marketing," said Kolvani. "We talked to almost everyone who walked by, like investors."
Conway said, "Obviously everyone wants to win, but that wasn't our goal."
Vasquez explained that they did it for the exposure, trying to reach out to the community more. According to Zubair, the group won $2,500, and gave the check to Director of the School of Computing Dr. Sherif Elfayoumy for his help and support.
According to Santos, they gave him the check for "further picture opportunities."
"The most important thing we got out of this was the connections," said Kolvani. "It opened doors that will eventually help us start the company."
Conway voiced his opinion about their victory at One Spark, saying, "I think this helps prove that as students we have a lot of value that we can add to the community. Even though we don't have that three to five years of business experience, it doesn't mean that we don't have the knowledge or capability to produce a really good product that the community wants."
After graduation, the group plans to finalize their website and turn it into a successful business. They plan to start small with local events, high schools, and universities, and then plan on expanding across the nation and eventually the world.
—
For more information or news tips, or if you see an error in this story or have any compliments or concerns, contact [email protected].