Donate your unwanted mini-fridge while you move-out at the UNF Give and Go sites
It's that time of year again. It's move-out! Everyone, sans graduating seniors, have to be completely moved out by 3 p.m. on April 27. Graduating seniors have until 12 p.m. on April 28 to be completely moved out.
As students pack their stuff and move out, they might realize they don't need certain items and don't know what to do with them.
That's where UNF Give and Go comes in. Sponsored by Housing and the Environmental Center, the event allows students to donate unwanted items to stations set up around the dorm buildings.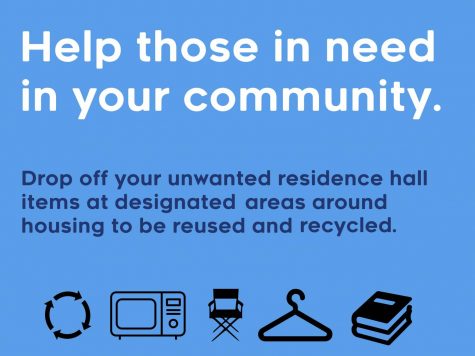 It starts on Friday, April 20, and ends on Saturday, April 28.
These are the locations:
Osprey Landing Y 1st Floor Lounge

Osprey Cove T 1st Floor Lounge

Osprey Crossings Q 1st Floor Lounge

Osprey Fountains Aerobics Studio

Starting 4/24 UHaul Van at Osprey Village D (Will use Clubhouse front desk for Textbooks and Food)
These are the kinds of items that the event will be accepting:
Shoes

Microwaves

Furniture (in good shape)

Refrigerators

Lamps

Unopened non-perishable items (Ramen Noodles, Mac & Cheese, Pasta, Cereal)

Unopened hygiene products (Shampoo, Shower Gel, Shave Gel, Soap)

Bins will also be available for textbook donations at each location
The UNF Environmental Center is asking students to volunteer to help table during move-out April 23, 24, 25 and 26 at the different dorms. They will be telling other students about the Give and Go event that occurs during the week of finals and move-out. The goal is to increase awareness and participation in the program in order to reduce waste on campus.
—
For more information or news tips, or if you see an error in this story or have any compliments or concerns, contact [email protected].