John Mulaney's 'Kid Gorgeous' tour comes to Jacksonville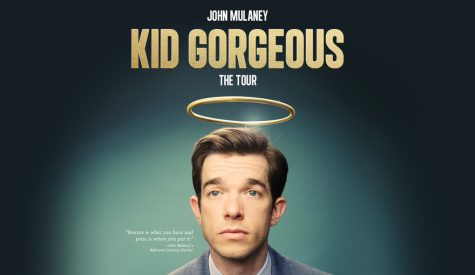 It was during my freshman year of high school that a friend of mine showed me a comedy sketch where a man reminisces about playing Tom Jones' "What's New Pussycat?" on a diner jukebox 21 times. Four years later, I had the pleasure of seeing my favorite comedian in the flesh. John Mulaney has become a household name in the world of stand-up comedy, and his 'Kid Gorgeous' tour closed in Jacksonville on April 29 at the Florida Theatre.
It's important to note that the show date had to be rescheduled because Mulaney was hosting Saturday Night Live during the original date. So, yeah. He's kind of a big deal. Mulaney was also a writer on SNL for five years and is known for his work on "Kroll Show," "Big Mouth," and "Oh, Hello on Broadway."
Mulaney is known for his corny sense of humor and jokes revolving around his youthful looks, despite being 35 years of age.
The sold-out show began with Mulaney explaining why comedians always make fun of Florida, as prompted by a message he once received from a fan on Instagram. After confirming that it was due to the laziness of comedians, he proceeded to tell the story of when he and his wife went to Dade City Wild Things, a "zoo" in Tampa. Instead of a zoo, the GPS brought them to a lone house. The house was, in fact, the zoo. It seems as if Florida brings the comedy upon itself.
In fact, he later questioned why 91-year-olds are still allowed to vote. In his words, why should someone order for the table if they're about to leave the restaurant? He then apologized for insulting 95 percent of Florida's population. Yet, this line was a knee-slapper.
"Jacksonville is my favorite city in Georgia," he said. One night here and he was already joking like a local.
Mulaney shared his thoughts on college when he talked about receiving a letter from his alma mater, asking for charity donations. He then confirmed that he already gave the school a $120,000 donation (his tuition) when he attended.
"Can you believe they spent all of it already?" he asked. "I gave them money when they housed and taught me!"
Long story short, he ended up writing them a check.
Mulaney then recalled the time that he met Mick Jagger while writing for SNL. Most friends ask him if Jagger is a nice person.
"He's nice in his own type of way," he proclaimed. "Being screamed at like you're a god for 50 years must change you as a person."
He tells the audience that during the writing process for a skit, he pitched a joke to Jagger. Jagger's response was simply "NOT FUNN-AY!" Mulaney's spot-on Jagger impression was an audience favorite.
Mulaney told the story of a visit to Best Buy with his wife, where the cashier asked him if he had a rewards card.
"No, I wish!" He exclaimed.
His wife left the register with a "Jesus Christ." When the cashier proceeded to ask Mulaney if he'd like a card, he said no. Needless to say, Mulaney touched on awkward moments in everyday life that most can find relatable.
Mulaney's final story discussed the concept of singing in the Catholic mass. As someone who formerly attended Catholic school, this one hit close to home in the best way possible.
The singers, according to Mulaney, are guys who all look like Marco Rubio and are definitely not singers. They croon about "the bread of God" and then expect the congregation to recite back. His father once tugged him by his shirt and taunted, "God can't hear you."
You can experience the joy and laughter that I did when the 'Kid Gorgeous' Tour comes to Netflix on Tuesday, May 1.
—
For more information or news tips, or if you see an error in this story or have any compliments or concerns, contact [email protected]