The Osprey Racing team takes Formula SAE Michigan
The UNF Osprey Racing team participated in the Formula Society of Automotive Engineers (FSAE) competition in Brooklyn, Michigan from Wednesday, May 9 to Saturday, May 12. This annual competition is held at the Michigan International Speedway and offers college students the opportunity to apply their engineering skills while designing and overseeing projects.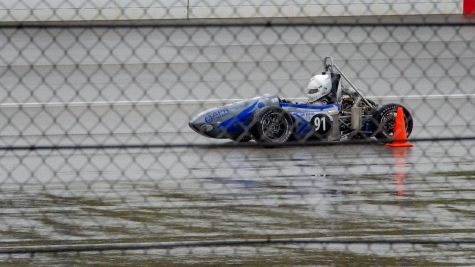 According to the preliminary results from FSAE, the Osprey Racing team placed 66 out of 120 total competing teams. This result was totaled from their scores in the various elements assessed by the panel of judges:
Cost score: 57.0

Presentation score: 66.9

Design Score: 50

Acceleration Score: 56.1

Skid Pad Score: 24.4

Autocross Score: 14.9

Endurance Score: 25

Total Score: 294.3
"When competing in a Formula SAE event, it becomes more of an extra project that students work on during the semester," Parrish Williamson, the president of the Osprey Racing team said. "FSAE creates opportunities and builds the next generation of engineers."
According to Thomas Strickland, the team photographer, the first two days of the competition include inspections of the car for safety and presentation. The team had reportedly experienced an issue with their car's brakes, which called for reevaluation on the third day.
"We ran into some complications with our pedal box that did not allow us to drive the car at 100 percent in the Autocross and Endurance events, which both occurred in the rain," Williamson said. "The hardest part is that these competitions may not always allow you to have a whole lot of time in between events, so unexpected problems that you don't find when testing back home can really put a damper on your performance."
Despite this, Williamson also said the business team did exceptionally well, placing at 16 out of 120.
Dynamics and endurance tests followed, as well as acceleration and the skid pad test, which tests the car's ability to corner on the track.
According to Strickland, the weather didn't permit and barely rose above 50 degrees. It was often rainy, making the tracks slick.
In all, the final results and breakdowns of the competition have yet to be released, according to the team.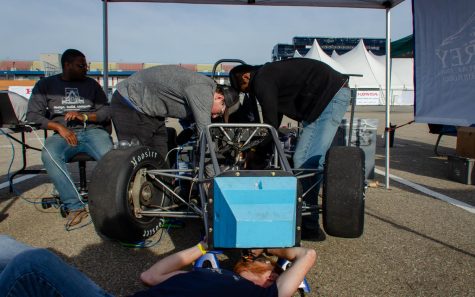 Strickland had also stated that any technical issues are currently being resolved before the team's upcoming competition in Lincoln, Nebraska. Williamson, however, maintains his positive attitude following the competiton.
"Overall, I'm proud of my team for never giving up, because when you're trying to fix your car outside in the rain in 42 degrees and the whole team has wet socks for 12 hours while standing on your feet, it is very easy to want to quit," Williamson affirmed. "Osprey Racing doesn't quit."
—
For more information or news tips, or if you see an error in this story or have any compliments or concerns, contact [email protected]