Ospreys defeat Owls in first round of the ASUN Tournament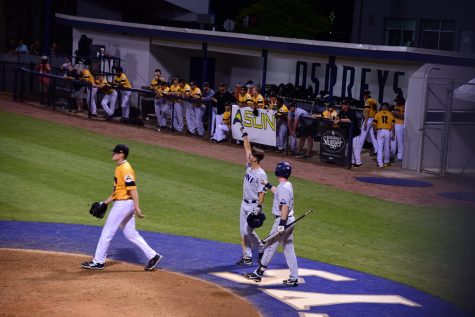 Behind a stellar complete game by Frank German and a steady offense, the Ospreys beat Kennesaw State 7-1 and will advance to the second round of the ASUN Tournament.
Last night's game was Frank German's second complete game of the season, allowing only one run and punching out 10. With 108 strikeouts on the season, the Ospreys ace is the first UNF pitcher since 2004 to strike out at least 100 batters in a single season.
UNF got on the scoreboard first in the fourth inning when Jay Prather connected on a single through the infield to score Blake Voyles, giving UNF the 1-0 lead. In the seventh inning, five runners crossed the plate. Chris Berry began with a single up the middle to drive in Rey Gonzalez. Dalton Board continued the rally by plating Abraham Sequera on an RBI single to add on to a 3-0 lead. Voyles' two-run single added two more insurance runs followed by a Mac Wilson RBI single, the Ospreys were up 6-0. In the eighth inning, Chris Berry connected on his second RBI single of the night to push the lead to seven. In the ninth inning, the Owls avoided the shutout on a sacrifice fly by Griffin Helms, making the final score 7-1 Ospreys.
Blake Voyles continued his hot streak at the plate, recording his seventeenth multi-hit game of the season and his sixth three-hit game of the year. Chris Berry, Dalton Board, and Chris Matthias each recorded two hits last night. Mac Wilson extended his games reached on-base streak to 13– a team-high.
This was UNF's first opening round win of the ASUN Tournament since 2016 when they clobbered FGCU 12-4.
With the win last night, the Ospreys will move on to the winners' bracket, where they'll face cross-town rival Jacksonville University Thursday, May 24 at 7 p.m. at Harmon Stadium.
Should the Ospreys win the game, they will face either No. 1 Stetson or No. 3 Kennesaw State in Friday morning's seminal at 11 a.m. If UNF loses, they play the winner of No. 5 Lipscomb vs No. 6 NJIT to avoid elimination from the Tournament on May Friday, 25 at 3 p.m.
—
For more information or news tips, or if you see an error in this story or have any compliments or concerns, contact [email protected].